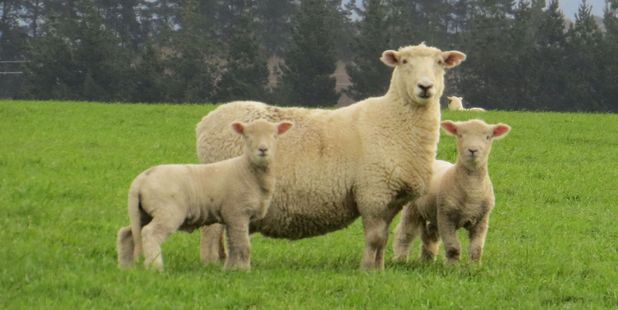 Many factors combined towards another large sheep yarding at yesterday's Feilding Prime Stock, and twice as many cattle came forward this week also. Around 2,500 lambs were offered, but over a quarter of those were really only store lambs.
The conditions were hot, and the weather that is pushing lambs out is also tempering the enthusiasm of the buyers to purchase.
Sale prices did ease as a result of the large entry of lambs, and it would be fair to state some pens would have struggled to make schedule with many in the $6.80-$7 schedule equivalent range with costs to come. Obtaining works space may make that objective only hypothetical, however.
Three small lines did sell for $150 or better, with "Jump-a-Bull" selling 5 for $158 and John McLean selling 16 for $154 with the lighter weight lambs altering to a lesser degree than the heavier lambs.
The store lambs were probably cheaper than last Friday's store sale, but that particular sale had a strong feel about it and the weather is not helping the store lamb market.
Some gloom was predicted before the start of the ewe market but the market, while it did ease, only eased by $3, maybe up to $5, per head, which is not significant. Of note this week was the much greater proportion of heavier ewes than last week, but there was no trouble selling grazing ewes, and once the sale found its level all sold.
More hoggets and fresh two-tooths came forward as vendors tidied up their flocks, and there is still limited interest in them. While total numbers of sheep were reduced, there were more pens and it was a long sale in the sun.
Steers were sold in the prime cattle sale this week, the first for some time. Works space is a problem now, and this probably helped attract more steers and heifers especially. Two big steers from Finn O'Brien sold for $1925 ($2.79) and one big Friesian steer made $2244 ($2.61).
Local trade space is tight, and heifers sold to an easing market. Many small lines were sold, mostly around the mid $2.50s.
Cows were back on last week's firm market with a larger entry. The bigger lines were beef cross cows, but some good Friesian cows matched them.
Bulls had the range covered from service bulls through to store bulls and the market prices reflected that range.
Sheep (7569): lambs (2458); prime (1741), 36-54kg, $114-$158, $3.00-$3.40, ease; store (717), 20-33kg, $45-$112, $2.30-$3.50, ease; hoggets (417), $61-$137; ewes (4581); good heavy (1989), 26-30kg, $115-$143, $4.40-$4.70, ease; medium (1,750), 21-25kg, $85-$113, $4.00-$4.70, ease; lighter (648), 16-20kg, $50-$85, $3.20-$4.30, ease; 2ths (194), $66-$129; male sheep (113); 2th (40), $60-$110; adult (73), $50-$150.
Cattle (157): steers (22), 320-860kg, $835-$2244, $2.64-$2.89; heifers (34), 375-620kg, $939-$1525, $2.01-$2.77, ease; cows (82); good, heavy, 510-707kg, $1009-$1378, $1.86-$2.00, ease; boners, 355-540kg, $571-$972, $1.55-$1.85, ease; bulls (19), 320-845kg, $694-$2146, $2.17-$3.05.