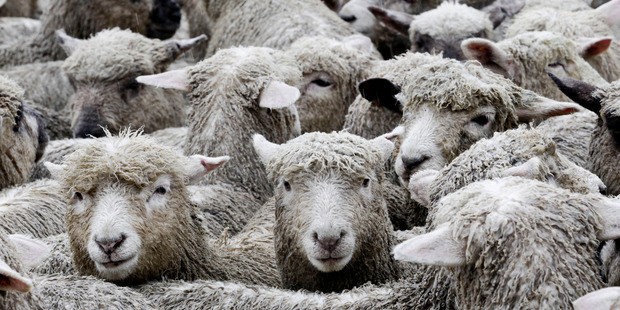 This prime sale for sheep is feeding off its own success with an entry approaching 5,000 lambs selling to virtually steady demand in spite of being nearly twice the number of last week.
Heavy rain fell during much of the sale which caught the attention of those buyers over from Hawke's Bay.
Larger lamb traders with supply contracts are paying a premium over works schedules and are also not so punitive on lambs outside specification which is encouraging vendors to bypass the meat plants and try their luck at auction.
So far, their "luck" has been good enough to attract such big yardings. Once Easter chilled markets are finished there may be a correction but for now the saleyards are busy.
The top sale price was $120 for 29 heavy lambs from JJ Farms with Mark Collis selling 189 lambs for $119.
There were some large lines sold with quite a number of lines over 100 head but, as with last week, the small pens seemed to lift further.
For a few pens, it looked like the ewe section may be back a couple of dollars but it was soon business as usual and the ewes were steady.
The yarding was not dominated by heavy ewes to the extent of last week and buyers seemed to stick to their preferred weight range.
The cattle sale provided its usual contrast to the sheep section with a very small entry, reflecting the availability of cattle.
Both steers were Jersey cross, thus a little lighter and steady on last week, and the beef cross heifers were a little firmer at just over $2.60/kg.
The cows were steady to firmer on a very small yarding of solely dairy cows.
All the bulls were Jersey this week and traded in a narrow range depending on weight.
Sheep (7,687): lambs (4,696); prime (4,291), 38-58 kg, $85-$120, $2.10-$2.50, steady; store (405), 28-37 kg, $60-$87, $2.25-$2.45, steady; hoggets (11), $88; ewes (2,893); good, heavy, 26-30 kg, $86-$99.50, $3.10-$3.40, steady; medium,21-25 kg, $67-$85.50, $3.20-$3.40, steady; lighter, 16-20 kg, $42-$63, $2.60-$3.20, steady; 2ths (33), $61-$94; male sheep (54), $51-$80.
Cattle (56): steers (2), 570 kg, $1482, $2.60; heifers (8), 460-540 kg, $1164-$1404, $2.53-$2.62, firm; cows (25); good, heavy, 504-620 kg, $863-$1141, $1.66-$1.84; boners, 350-590 kg, $560-$1009, $1.60-$1.71, firm; bulls (21), 347-630 kg, $735-$1568, $2.12-$2.49.