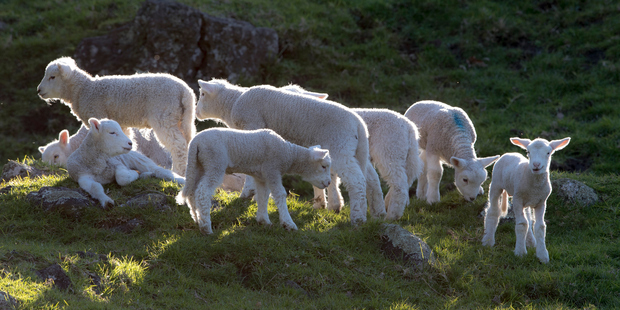 The last store sale for the year yesterday still could not attract store lambs in great numbers, with only just over 7000 offered.
Lambs have been struggling in the poor weather conditions all season, weights are less than hoped for and many lambs are only just now starting to bloom.
The last sale before the break could not sustain last week's buying urgency and gave back all of last week's cents/kg gains.
Most buyers are aware that larger numbers of store lambs will inevitably come on stream soon, so many are prepared to sit back and wait now rather than take on more lambs over the next few weeks.
The sale was a good result for Ossie Latham and will help him and Margaret pay for the Christmas wine with a top cut of 36 lambs selling for $90 and the second cut of 57 nearly getting there, selling for $87.
"Maata-Kotahi", Taihape, sent in their usual top quality blackface lambs with the top 418 ram lambs selling for $89 and the top 259 ewe lambs making $84.
The ease in the cents/kg was consistent across the weight ranges and the buying interest in lambs was also consistent across the weight ranges with heavier lambs receiving as much interest as the longer term lambs.
The cattle sale offered much fewer cattle than of late and there was little market direction on such low numbers with the exception of the yearling bulls.
There were pens of yearling Friesian bulls that might have interested the buyers more on a good day but today they eased with G& J Lynch Family Trust, Kairanga, selling 26 for $1345 ($2.73), beaten by 4 Angus bulls from Pine Farm, Feilding at $1365 ($3.02).
A number of pens of Jersey bulls were entered just to keep the cents/kg market in check.
AH Brown, Kimbolton, and Stu's Agri Contracting, Kaukatea Valley, sold heavier Angus steers to steady demand but there were few yearling steers to trade back into.
Heifers were an average lot and were steady enough. An attractive line of Hereford/Friesian heifers from L&V Hammond, Marton, stood out selling for $1260 ($3.08) and there were a few pens of weaners.
So ends another stock-selling year for the Feilding Saleyards.
It has been an abnormal year regarding stock flow, with drought, facial eczema and the well documented issues in the dairy industry all affecting stock entries at times.
It has also been a very difficult year, especially for those in the sheep industry with store lamb prices at unsustainably low levels, yet the finishers are not making acceptable margins either. Unfortunately, next year promises nothing better.
It is best for now to put this year behind us and enjoy time with family and friends for a couple of weeks. I wish the compliments of the season to all.
Sheep (7494): ewes (362), $68-$84; lambs (7132); 32-38 kg, $73-$90, $2.12-$2.62, ease; 26-30 kg, $62-$78.50, $2.12-$2.61, ease; 20-25 kg, $55-$65, $2.29-$2.68, ease.
Cattle (515): steers; 2yr (120), 395-617 kg, $1240-1840, $2.97-$3.25; 1yr (50), 325-392 kg, $1110-$1330, $3.20-$3.44; bulls; 2yr (39), 394-554 kg, $1175-$1515, $2.42-$2.98; 1yr (85), 345-493 kg, $790-$1365, $2.28-$3.02, ease; weaners (60), 70-116 kg, $160-$520, $2.28-$4.63; heifers; 2yr (15), 394-537 kg, $1175-$1310, $2.44-$2.98; 1yr (81), 287-409 kg, $860-$1260, $2.70-$3.25; weaners (59), 102-146 kg, $490-$560, $3.38-$5.14.