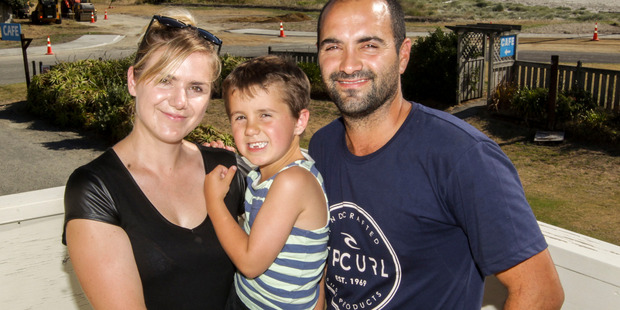 After five years farming at Tiniroto, near Gisborne, Sharelle and Svarn Creswell decided to up sticks and move in a completely different direction - taking on not one but two Hawke's Bay holiday parks.
They are the first new owners of the long-established Mahia Holiday Park in nearly six decades.
"We just wanted a lifestyle change and to diversify - that was the main driver behind it, to diversify," Mrs Creswell said.
After owning the Mahia Holiday Park for just four weeks, Mrs Creswell said the hotel was again open, following a series of renovations.
"It's pretty much been owned by the same people for the last 57 years, who had leased it out. So, we've bought the whole thing and we just got cracking on modernising the place really.
"Pretty much everything is brand-new, and we have four beautiful motels with sea-views, which are all kitted out now."
There was also kitchen cabins and cabins, along with powered sites and non-powered sites available.
The park was part of the Kiwi Holiday Parks chain and more developments would be in place after Christmas, and would include a new playground and renovated toilet blocks and kitchen.
She added that the Mahia Holiday Park was not the only Hawke's Bay premises they had an interest in.
"We are actually moving down to Hawke's Bay to run the Hasting Top 10 Holiday Park, so that's my mother-in-law who owns that, so we'll be living down there and managing that."
Mr Creswell said the couple had planned to move away from sheep and beef farming with their three children, Carson, 5, Scarlett, 3, and Logan, 1.
"We had planned to move, so we had a farm manager set up before we came here, and this other opportunity came up in between. Our manager is going well so we can just concentrate on here and our next step."
Mr Creswell said there had already been a good response from potential customers.
"We probably get six to eight people a night, inquiring for bookings even before we were up and going."
He praised the Mahia community for their support.
"We've had great support from everyone really, there's not one person who we haven't had great support from, which has been really good. That just helps, you can't do it without the locals so it has been brilliant really. Everybody has come on board."
The couple had also had help from family members and the holiday park's former owners, the Fulton family.
Mr Creswell added that with the Blue Bay subdivision attracting new people and Rocket Lab also based in the local area, he was confident about the future.
"We're really confident about Mahia, it seems to be going forward at the moment. There's a lot happening and a lot of new people coming into the area. For us personally we're just keen to run a good, efficient business."
The couple were now looking for a couple to manage the Mahia establishment, while they took over the Hastings premises in April.