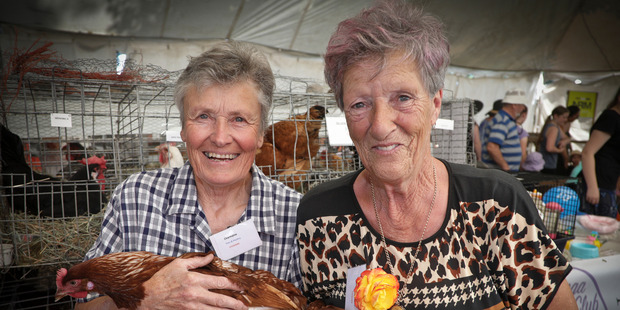 While there are plenty of formal competitive events at this weekend's 112th Te Puke A&P Show, it's one of the more laid-back events that is capturing the imagination.
Te Puke A&P Association secretary Kim Cawte says the Recreation Horse ring is attracting a huge amount of interest.
The fun events include a trotting race, an obstacle course and a speed in pairs event.
"It's for everybody, all horses, all ponies, all ages. It doesn't matter if you are a good rider or not, all you have to do is wear a helmet, you don't even have to wear really good gear."
The Recreation Ring events start at 1pm.
Kim says the show is growing year on year and there are more and more attractions for urban people.
"The whole lot [is exciting]. There's so much entertainment and a lot of competitions and things for the public to take part in. At this show you don't just walk around, there are things to buy, competitions to enter and things to watch."
Among other highlights are the ever popular sheep races, lawnmower racing and the truck and tractor pulling contest, which was re-introduced at last year's show.
"That's going to be great," says Kim, "there's been a huge amount of interest and there will be lots of tractors from local contractors."
The success of the show and its growth means more and more volunteers are needed to ensure it runs smoothly, and Kim would still welcome more help, especially in the home industries area. Anyone able to help can call her on 021 133 0709.
New Zealand Kiwifruit Growers (NZKGI) will once again hold its regional Young Grower of the Year Competition with practical and theory competitions throughout the day and Te Puke Young Farmers will host a regional fencing contest as well as the Ladies Gumboot Throwing and Horse Shoe Throwing competitions.
There will be pony rides, pets corner, show jumping, a miss and master contest for 4- to 11-year-olds, apple bobbing and snakes and ladders.
"This is a rustic show where the town meets the country and it has only been cancelled once in its 112 years," says Kim.
Kim says sponsorship is crucial and major sponsors include Fonterra, Legacy Trust, TECT, Hargreaves Trust and KGI.
The show is non-profit with gate takings going to pay for entertainment, speaker systems, portaloos, rubbish bins, chillers, marquees, competitions, prize money and "much more, that is required to run the show".
She says the Jensen, Whitehead and Hintz families continue to be mainstays, with Murray Jensen in his third term as president.
"Without these volunteers, along with the rest of the show committee, helpers, judges and stewards who are prepared to give up their valuable time and support — there wouldn't be a show.''
Entry is $10 per adults (over 13), $2 for children and $25 for a family ticket for two adults and up to four children. Under 5s are free. Eftpos will be available at the gate.