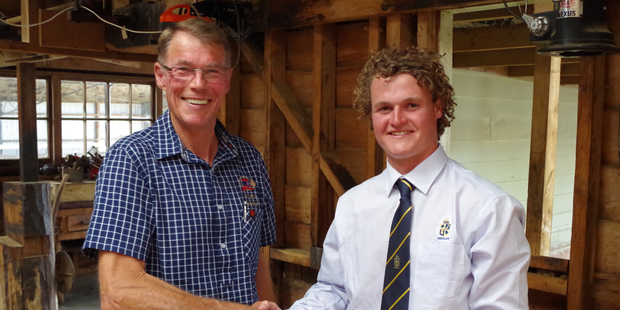 A former Napier Boys' High School student who completed his secondary schooling in Wellington has carried off the top prize at the Smedley Station and Cadet Training Farm prizegiving.
Will van Bohemen, who wasn't from a farm, spent two years at NBHS before going to Wellington College, said Rob Evans, who manages the farm which caters for more than 20 first and second-year cadets each year on a sprawling property in the hills near Tikokino in Central Hawke's Bay.
Mr van Bohemen, who won the much-sought Affco scholarship to the UK, has a brother farming on the Rangitaiki Plains and is "very committed" to farming, said Mr Evans, after the prizegiving in front of more than 100 family and friends of cadets in the station's woolshed last Friday.
"Farming is definitely his passion," Mr Evans said.
In addition to the recognition for his all-round excellence, Mr van Bohemen claimed several other prizes highlighting some versatility, from academic honours to the Ann and Paul Evans prize for best performances in sheep dog trials at the Royal Show in Hastings and the Central Hawke's Bay Show in Waipukurau and the Deer Industry NZ prize and Brent Norwell Memorial Cup for his ability with deer and interest in the production of velvet.
The other major winner was Tommy Stevenson, who claimed the Affco and Hawke's Bay Chamber of Commerce proficiency award, and others including the top honour for stockmanship.
The guest speaker was Vet Services Hawke's Bay managing director Richard Hilson, and representatives of sponsors, including Affco, were present.
Mr Evans said the involvement of the sponsors was a particularly important aspect of the programme and the prizegiving.
While the cadets head home for the holidays, several destined for diploma and other studies at Lincoln University near Christchurch, the farming goes on at Smedley.
There will be weaning early in January and the arrival of a new intake of 11 cadets in the first fortnight of the year to join the 2017 intake in their second year.
Mr Evans said all the second-year cadets would have their own dogs.
Some were likely to compete in sheep-dog trials during the year as they developed an interest in agrisports, which also included farm fencing under instructor, Golden Pliers winner and former world champion Shane Bouskill, and some shearing.
In the winter, Smedley also supplies the bulk of the players for Colts rugby club Onga Tiko.