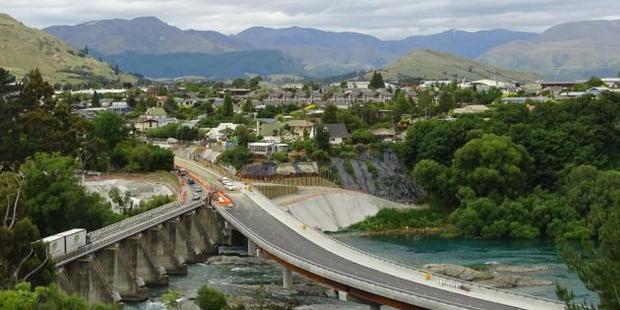 Queenstown residents are being invited to stroll across the long-awaited two-lane Kawarau Falls Bridge later this month.
NZ Transport Agency senior project manager Phil Dowsett said a community walk on the new bridge was planned for Sunday, December 17 at 10am to mark the opening of one lane of the $22 million bridge for the busy summer period.
''With such high interest in this bridge, we felt it was important to provide an opportunity for people to walk across it before one lane opens permanently to traffic,'' he said.
It would be April before both lanes of the bridge were open to traffic. In the interim, from December 17 until January 8, the old bridge would continue to be used, along with the south-bound lane of the new bridge.
After that, all traffic would shift on to the new bridge, and the old bridge would be closed permanently to all vehicles. That would allow completion of the northern approach to the new bridge including utilities - water, power and stormwater drains - and the partially-constructed pedestrian and cycling underpass to the state highway.
Closing the old heritage bridge would allow a start to converting it to a walking and cycling crossing that would form part of the Queenstown Trails Network, Mr Dowsett said.
tracey.roxburgh@odt.co.nz