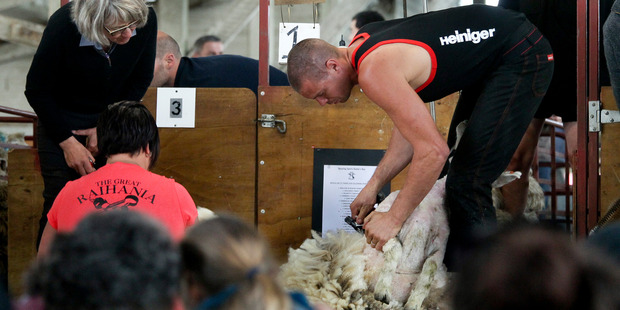 Hawke's Bay shearer Rowland Smith yesterday completed his competition season with his 19th win and a possible season's record of 26 victories by claiming the national lamb shearing championship Open title at the Mackenzie A and P Show in Fairlie, South Canterbury.
Smith had also won the Open final shorn at the Royal Easter Show in Auckland on Saturday, after the reversal of an earlier decision to cancel the show's Northern Shears because of Cyclone Cook and shortening the shears to a mainly one-day event, although demonstration shears took place throughout the show.
Smith was one of two North Island shearers who then flew south for the Mackenzie Shears, which marked the opening of a new six-stand shearing pavilion and also the top-competition swansong of multiple national all-breeds champion and New Zealand representative, Tony Coster, of Rakaia.
The new facilities were formally opened by Shearing Sports New Zealand chairman and retired Te Kuiti shearing great Sir David Fagan, whose son, Jack, was third in the final after beating Smith in the race for fastest time.
Fagan shore the 20 lambs in 16min 43.62sec, beating Smith by just under nine seconds, but finishing more than a minute and a half than quickest South Island shearer, Gore's Ringakaha Paewai.
The time points, along with best pen judging points, were crucial for Smith, while Fagan was unable to keep up the quality and ceded second place to Paewai who had the better combination of shearing board and pen points.
Last to finish, in 19min 55.54sec, and seeking the Mackenzie title for a fourth year in a row, Coster had the best combination of board and pen points of all and claimed fourth place.
Smith, travelling almost every weekend from his farm nearf Hastings, competed in 30 competitions during the season, winning 26, which, with two in the UK last July and 19 in New Zealand last season have taken him to 47 wins in the last 18 months.
It also took him to a career total of 113 dating back to his first Open-class win in January 2008 at Kaikohe, about 100km from where he grew-up around Ruawai in Northland.
His wins in the 2016-2017 season won him Shearing Sports New Zealand's Open Shearing No 1 ranking for the first time and the first-ever cleansweep of the Golden Shears and New Zealand Championships Open titles, the South and North Island Shearer of the Year titles, and New Zealand's two premier all-breeds events, the PGG Wrightson National Circuit final during the Golden Shears in Masterton, and the New Zealand Shears Circuit final during the New Zealand Championships in Te Kuiti.
The unbeaten run since the start of February also included the Southland All-Nations title, which he contested in Invercargill during the World Championships after missing a place in the championships when finishing only third in the national team trial in Christchurch in November.
Just nine days later he brought up a career century by winning the Counties Open final in Pukekohe, the day after winning the South Island Shearer of the Year and Southern Shears finals in Gore.
There will be little rest for Smith who is planning an attempt on a World Record of 605 strongwool ewes in an eight-hour day in England in July, while also on a New Zealand team tour of the UK with new World Champion John Kirkpatrick, also of Hawke's Bay.
Result:
Mackenzie Shears Open final (20 lambs): Rowland Smith (Hastings) 16min 52.34sec, 60.717pts, 1; Ringakaha Paewai (Gore) 18min 21.41sec, 64.6705pts, 2; Jack Fagan (Te Kuiti) 16min 43.62sec, 66.081pts, 3; Tony Coster (Rakaia) 19min 55.54sec, 68.577pts, 4; Eli Cummings (Pleasant Point) 19min 12.75sec, 69.6875pts, 5; Jason Ratima (Winton) 19min 33.78sec, 72.489pts, 6.