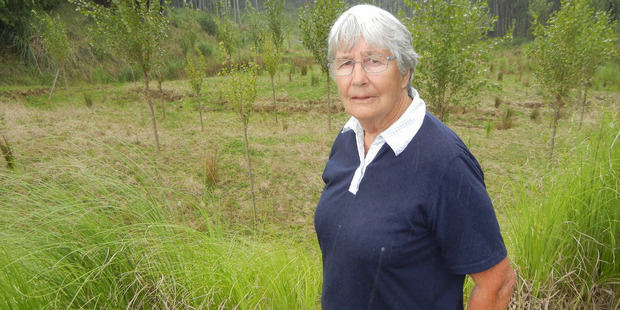 Farmers are receiving $20,000 to $60,000 a hectare for pruned or unpruned radiata pines grown on their properties, according to Mid North Farm Forestry Association president Peter Davies-Colley.
The return he gave for trees 25-30 years old was clear of harvesting costs but affected by factors including the pines' locality to market.
"It's astounding so little planting has been done recently, but that's changing with the interest [Minister of Forestry and Regional Economic Development] Shane Jones is drumming up," Mr Davies-Colley said.
"Some people say it takes a long time to grow a pine plantation, but in reality 25 years is a short time and if it is the best land use it's a good thing to do."
Forestry could achieve valuable returns for farmers with trees planted on steep slopes or other land with low pastoral agricultural merit.
It also offered a high return option when there was increasing pressure on agriculture over environmental issues such as air and water pollution.
"Some people say it takes a long time to grow a pine plantation, but in reality 25 years is a short time and if it is the best land use it's a good thing to do," Mr Davies-Colley said.
He is on a third rotation of pines on the Titoki farm which he and his family have developed into a model of successful farm forestry in Northland.
And aspiring farm foresters can examine a similar, if more recent, development during a Mid North Farm Forestry Association field day at Tangiteroria on March 24.
They will see the growth on 55ha of pines Bev Gravatt and her late husband Lloyd planted, fertilised and pruned on the 496ha farm at 1493 Pukehuia Rd they bought in 1995.
Smaller plots of Cupressus lusitanica and eucalyptus grown for their valuable timber will also be on view.
Most importantly, field day visitors will also see how the Gravatts planted thousands of poplar wands to deal with slumping and slipping of the sticky clay slopes which erode so easily in heavy rain on Northland hill country.
Northland Regional Council land management advisers will be at Tangiteroria to help with discussion, advice and promoting the Ministry of Primary Industries-funded Kaipara hill country project which is part of the council's efforts to reduce erosion sedimentation into the Kaipara Harbour.
Lloyd died in 2016 and today Bev lives in Whangarei. Their son Nigel manages 130 breeding cows, 70 Friesian bulls and 850 ewes among the well-groomed plantations on the Pukehuia Rd farm.
Back in 1995 Bev and Lloyd lived on 23ha at Maungatapere and — with experience from a forestry block they owned at Whatatiri — got stuck in planting 5000 GF23 cuttings and 12,000 GF17 seedlings on 25ha as soon as they acquired the farm at Tangiteroria.
Another 25ha of GF28 and GF23 aged cuttings open grown at Wairere Forest Nurseries were planted in 1996.
Pruning contractors gave the trees three lifts at a total cost of more than $90,000 and reactive phosphate rock fertiliser and boron was applied four times over the years.
But Bev and Lloyd pruned 2ha of GF28 aged cuttings they planted in 1997 and they thinned their whole plantation to waste themselves in 2003-06, leaving 400 stems a hectare.
Friend John Pedersen helped the couple plant 1500 Lusitanica in 1995, 4ha of Eucalyptus Pilularis was planted in 1997, and in 2005 50 Eucalyptus Microcorys and 50 Redwoods went into the ground.
Bev and Lloyd usually planted 100 poplar poles annually, but after a storm dumped 150mm of rain on the farm in two hours in 1999 they put 700 wands into two badly affected gullies over the next two years.
They planted 3ha with 1000 wands in 1999 and 2ha with 700 wands in 2001.
John Pedersen said the erosion-prone nature of Northland's hill country made the field day at Tangiteroria particularly topical.
"It's not a case of if, but when the next big weather bomb comes," he said.
All are welcome to attend the field day. It starts at 1493 Pukehuia Rd at 10am on March 24 and visitors should take along good walking shoes and their lunch.