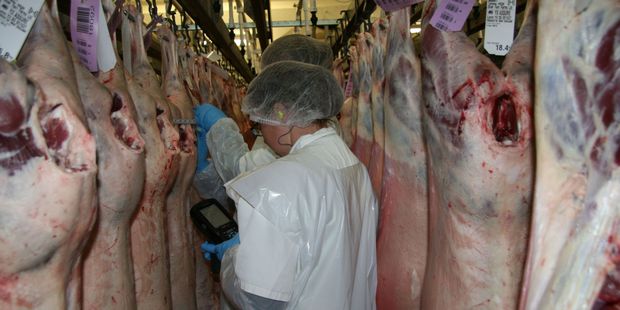 South Canterbury freezing works are at capacity, providing a pre-Christmas boost for the region's economy.
Alliance's Smithfield plant is killing six days a week, and Silver Fern Farms' Pareora plant is also operating at capacity, including its third chain shift, due to increased stock levels coming through the plants.
SFF communications manager Justin Courtney said the Pareora plant had all its chains running, including the third chain shift from 3.20pm to 10pm, due to more stock coming through.
Mr Courtney said this was due to the weather conditions prompting farmers to send more stock to the meatworks this month.
''We have lifted processing capacity at Pareora by bringing on a full third chain to better service farmers in the upper and central South Island.''
The plant employed up to 800 staff at peak season and had also taken on extra stock processing after the company's Fairton plant, in Ashburton, closed earlier this year, he said.
Nationally, Silver Fern's plants were processing more than 20,000 cattle, 180,000 sheep and 3500 deer each week and the company believed it would spend more than $230million on livestock alone in December, he said.
''It will be our biggest livestock month ever and the largest we have seen since April 2011.''
The Alliance Group's Smithfield plant was also ''particularly busy'', plant manager Nigel Cuthill said.
The plant currently employed more than 500 staff and was processing sheep and deer six days a week.
''[It] is great news for our staff, farmers and the local community. We are among the largest employers in the district and proud of our contribution to the area,'' Mr Cuthill said.
Federated Farmers Meat and Fibre Industry Group chairman Miles Anderson said the dry weather was a ''big concern'' for farmers, who were having to destock quickly.
''All the stock are hitting the meatworks at once.''
However, the prices for meat were ''really good'' for the first time in years.
Mr Anderson had his ''fingers crossed'' for rain.
''It'll be a good Christmas present if it does rain,'' he said last Monday.
By Wednesday, the district had got that much-needed rainfall, with 32mm falling across parts of South Canterbury, according to MetService.
Aoraki Development operations manager Di Hay said the two freezing works in the region were big employers, collectively employing more than 1300 staff at the moment.
This time of the year was generally a busy period for South Canterbury as a major food-producing region, she said.
''So when they're busy with production and high staff numbers that's good for the local economy in terms of potential spending by those staff.''