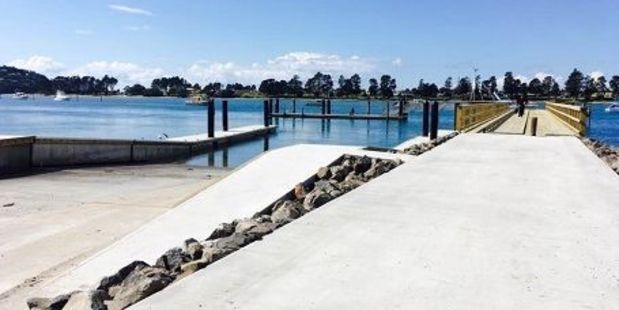 Thames-Coromandel District Council says its decision to place padlocked bollards at the new $1.4 million wharf in Tairua is about fairness — however one boatie says it's a matter of time before someone gets the chainsaw out.
The new vehicle accessible wharf and boat ramp were officially opened by mayor Sandra Goudie and Tairua-Pauanui Community Board chairman Bob Renton a month ago.
Padlocked bollards stop any vehicles entering the wharf without a key — a decision that initially did not go down well with the Tairua-Pauanui Sports Fishing Club opposite the wharf on Tui Tce.
The club raised the question of access at its AGM and why only a limited number of keys would be given out. President Warren Maher says members were much happier now that a key has been distributed to the club and to local emergency services.
"We talked with the council and that has pacified a lot of our members who had concerns," said Mr Maher. "But there still are one or two that aren't happy."
Among them is Powell Clarke. "Any minute now someone is going to get the chainsaw out and the council would be pushing to lay charges because it's not a private wharf, it's the ratepayers' wharf.
"I spoke to council staff and told them the wharf is paid for by the ratepayers, you have no legal right to use it like a private wharf. They coughed and spluttered and put padlocks on.
"The council is out of line," he says, "using ratepayers' money and restricting usage. Whatever excuse they've got, they're blowing wind up our backsides."
In 2016 the Tairua-Pauanui Community Board supported an increase in the budget from $1.2m to $1.4m to upgrade the wharf and boat ramp, to be paid for by ratepayers over the next 30 years.
The purpose of the replacement wharf was to improve trailer boat launching facilities for Tairua as well as cater for larger recreational boats, commercial fishing and charter operators.
The council may introduce trailer boat launching fees in the future, along with commercial berthage fees, to offset maintenance costs.
Mr Clarke says a commercial boat recently had to berth "over the rocks" to load up supplies when it could not get access for a vehicle onto the new wharf.
He also claims the chained bollard restricts access for people with disabilities, in breach of the Human Rights Act.
"The original resource consent consented and gazetted that vehicles could have permanent access to the wharf, so putting up the bollards is a breach of those conditions," Mr Clarke says.
"And finally, ratepayers are paying for the wharf so therefore should have access to the facility. The council needs to be made accountable for their bungling, incompetence and stupidity."
TCDC south area manager Garry Towler says the bollards were about fair use of the wharf.
"The bollards are in place and can be unlocked with keys so we can regulate vehicle access to the wharf and make sure it can be used and enjoyed on a fair and equitable basis by all.
"We spoke to the Tairua-Pauanui Sports Fishing Club and they told us they have no complaints or issues with the current access arrangements to the wharf. We are aware of two complaints from members of the public regarding access, both of them made informally some time ago and we understand that neither of these people were boat owners.
"Three commercial operators have requested keys, two of which have been handed out and the third is available to be collected by the operator."
He said neither the council nor the fishing club had any knowledge of a commercial vessel not being able to gain access to the facility.
"The Tairua-Pauanui Sports Fishing Club has been issued a key for access to the weigh station gallows. We can issue keys to individual owners of permanently moored vessels who specifically request access. Six keys have been issued upon request, with no other requests received so far.
"We are also in the process of issuing keys to the local fire brigade and ambulance service. We record details of all the keys issued in our council's database for future reference."
Mr Towler says the bylaw around vehicles on maritime facilities needs to be read as a whole, and adds: "Another section is more relevant in these circumstances.
It states that no vehicles can be driven, parked or stored on a maritime facility except with the permission of the maritime facilities manager, which may be granted subject to conditions. The full text of the bylaw is available on our website at www.tcdc.govt.nz/maritimefacilities."
Mr Clarke believes the council has padlocked entry to the $1.4m wharf in reaction to a complaint by a property owner in the vicinity.
Coastal News was recently told that the padlocks had had super glue poured into them. Mr Towler's response: "One padlock was super glued and it will stay there.
Keys have been issued to all those who require them. Anyone who needs a key for commercial purposes can obtain one from the Tairua-Pauanui Fishing Club. The wharf will not be open to members of the public for their own [vehicular] use."
The rules
What the Thames-Coromandel District Council's Maritime Facilities Bylaw 2015 says:
Clause 2.2 reads: Council provides for the orderly management and control of maritime facilities that are owned or under the control of the [TCDC] for the benefit and enjoyment of all users of those facilities.
Clause 14.3 says: No person shall in any way obstruct or impede traffic on any maritime facility.