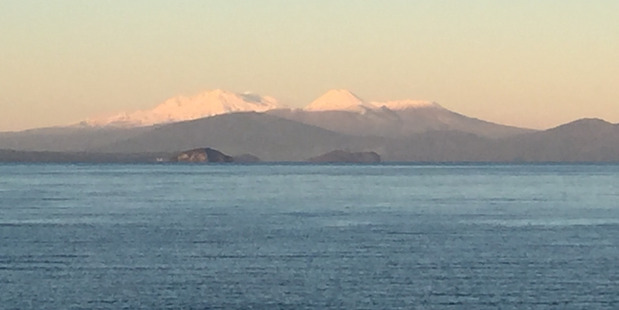 I HAVE just heard that Lake Taupo — our beautiful glorious Swiss-like lake — has been reported as unsafe for swimming, or indeed any contact whatsoever. There are toxic Phormidium algae in Lake Taupo that form a mat on the lake bottom in shallow water. When they die, they float to the top as a toxic scum.
The growth of these algae is made possible by nitrates and phosphorus (run-off from farms), combined with hot, calm conditions.
The lake temperature now is 26C. . They can also grow in hot, slow-moving rivers and streams.
Contact with these algae can lead to difficulty breathing, stomach upsets, eye irritation, skin rashes, numbness and muscle weakness. It can also kill dogs.
I am angry. I joined Greenpeace in the 1970s. Since the 1990s, the Greenpeace ship Arctic Sunrisehas sailed around the Arctic every summer, measuring ice melt and glacier retreat, and reporting every year to the United Nations.
For a long time no nations listened. They were too busy arguing economics, creating wealth for the few and poverty for the many.
My husband, Julian Dickon, and I lived at Taupo, renting a lake-front flat for two years. Nine artificial dams servicing eight power stations had been built on the Waikato River between Lake Taupo and Mercer. We moved close to two dams from 1966 to 1978. The best beach was at Lake Ohakuri, just 10 minutes away. It was a small cove, with rocks each side, and grass to sit on ... I took my two sons there, with friends. Sometimes we rode the horses to the lake, and met the guys with the boats and extra children at the small yacht club there.
I went to Lake Ohakuri in 1995, to show my partner Trevor the beach. Well, the beach was still there, but you could not swim; the water was choked solid with oxygen weed.
There has been substantial information on global warming, farming, transport and energy practices since the 1970s. And on the driver of it all: overpopulation of Homo sapiens, which means wise man — should it now be Homo exterminatore (man, destroyer of worlds?).
I know that, around 2005, when surface algae had appeared on the western side of Lake Taupo, the Taupo council did change the permitted activity for farms on that side. Cattle were banned. Since then, those algae have disappeared. But it can take up to 50 years for nitrogen to seep into the lake. It may have been too little too late.
Many years before, in the 1970s, the Values Party did propose all waterways in New Zealand be restored to bush for half a kilometre on each side.
This need not be expensive: fence off gorse and it will end up as bush again. In 1963, all waterways in New Zealand were drinkable. Oh what, oh what are we doing to our world?
■Sara Dickon is a founder member of Sustainable Whanganui and a committee member of the NCWNZ and UNANZ.