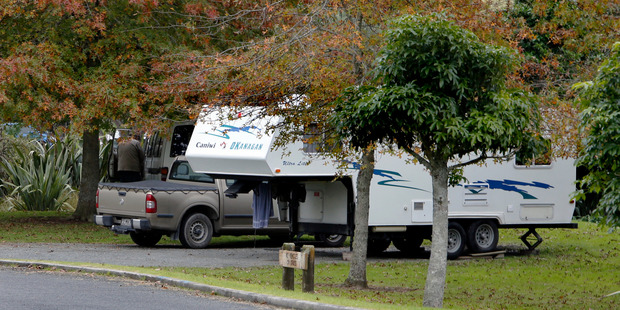 OPINION - Freedom campers: defecating drifters or money makers for rural NZ?
As traditional tourist hot spots spurn the advance of freedom camping there could be an opportunity for rural townships to get in on the game.
'Freedom isn't free,' (a well-known American idiom which will be familiar to anyone having watched Trey Parker's satire film Team America), the phrase will also resonate acutely with many popular New Zealand tourist towns facing the messy and often costly job of cleaning up after the summer deluge of freedom campers.
Being based in Queenstown, (the epicentre of freedom camper fervour), I have seen first-hand the rampant rise of freedom camping and its often ruinous impact on our local environment.
It has got locals so riled up that bylaws are in place to restrict freedom camping in the district and with a recent petition garnishing nearly 6,000 signatures; further restrictions have just been announced by Mayor Jim Boult.
There is no doubt there are difficult and often icky issues that surround the influx of freedom campers in areas which are not equipped to cope.
Many of these apparently self-contained vehicles seem to be a less-appealing spot for our visitors' morning business than the local public dunny or a scenic view from the bushes overlooking our lakes and beaches.
Mark's interview with The Country: Could freedom camping boost revenue in rural NZ?
Paid showers are replaced with throwing on some Lynx Africa body wash and taking care of that three-day pong in a nearby creek; all the travelling is thirsty work and it's hard to find room for all those Speight's stubbies which end up overflowing from council rubbish bins or strewn around campsites.
However, the greatest insult to the local populace is losing their common space as once peaceful reserves are being overrun.
It's not all bad however; the convoys of clapped-out Subaru station wagons, DIY campers and Jucy Rental vans bring their fair share of entertaining humans up for adventure and keen to experience New Zealand.
While these folk often won't be shelling out for fine dining, luxury penthouses and helicopter transfers, they do spend money on booze, coffee, food and fuel and even let their hair down with the odd night out backed up by tossing themselves off bridges or out of planes.
The favoured argument by locals and councils is that we don't want low-end tourism, and even if we did, they can't afford to cater for it. We are overrun, we don't have the facilities to cope and we can't afford to (or don't want to) build them.
We cope by pushing the campers further afield and relying on DOC to provision distant camps sites with low overnight camping fees.
It's another case of New Zealand being a victim of its own success and a bit like the recent election campaign where Labour and NZ First were calling for a breather on immigration to let the country catch up. We now have many councils calling for a breather on tourism.
However, in typical council and government fashion, planning has been woeful and we have indeed been caught out. We don't have a freedom camper problem as much as we have a lack of infrastructure problem.
Simply pushing the issue further away from the town centre and hoping DOC campsites will solve it or that our frugal guests will start shelling out cash for motels and hotels is wishful thinking.
Not all freedom campers are smelly hippies who want to hike around hugging trees, munching on lentils and tofu. Many are simply your stock-standard ordinary traveller on a big adventure, doing things on the cheap to save a few bob for a skydive, and enjoying what can be a great way to see New Zealand.
What's the answer? As they say one man's trash is another man's treasure!
Cue Lumsden, a small town in Northern Southland, an hour's drive south of Queenstown and 50 minutes west of Te Anau. A rural service centre and former rail hub whose last line closed 30 years ago, it has now become a hub for unwanted travellers cast out of more popular spots to the north and west.
As part of a review of freedom camping laws (in consultation with local communities), the Southland District designated certain zones for Freedom Camping and Lumsden decided to use the old train station and its sheltered platform equipped with tables for cooking and eating, ample rubbish bins and a public toilet close by.
The railway station is also bang smack in the middle of this now raging rural metropolis which has seen the opening of new cafes with local businesses doing well off the back of the tourism revival in the deep south.
Lumsden didn't whinge, they got their act together and put in place the facilities to cope with the campers and ensured they would capture the business as a result. While not universally lauded by all the townsfolk it has definitely been appreciated by local business and could be the model of success used in other areas.
So while your councils and their economic development units pow wow with Shane Jones and his billion dollar slush fund and throw money at all number of questionable projects, the answer could be staring rural New Zealand in the face.
The tourists are here now (and while no one is suggesting Bulls overtakes Taupo on Trip Adviser), our small towns have much to see and do and are unique windows to New Zealand's rural culture.
Offering a well provisioned, safe and welcoming spot for our guests to overnight cheaply could be one way to get those local tills ringing a bit louder and far more cheaply than some councils "Think Big" economic development plans.
So Queenstown can toss them out and rural New Zealand should be hoovering them up!
Mark Wilson is a Queenstown-based business consultant.