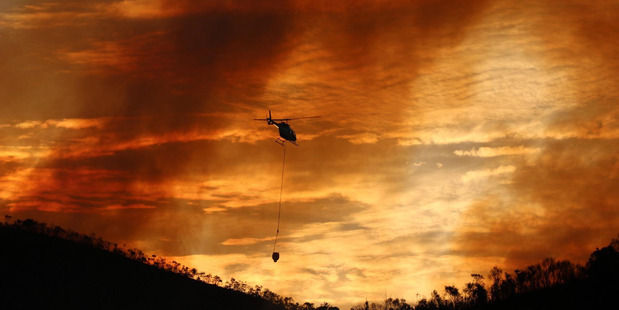 A bush fire that ripped through 132ha and threatened two homes has a senior fire official pleading with Northlanders to exercise extreme care with rubbish fires.
The fire broke out near Wright Rd, northwest of Whangarei, about 3.30pm on Thursday and more than 60 fire and emergency staff plus six helicopters battled to contain the blaze.
One Wright Rd resident described the blazing fire front, clearly visible in the night sky, as being like " a glowing Great Wall of China".
Bulldozers were used to put in fire breaks on Thursday evening and at daylight yesterday the firefighting team swung back into action with the fire contained by about 9am.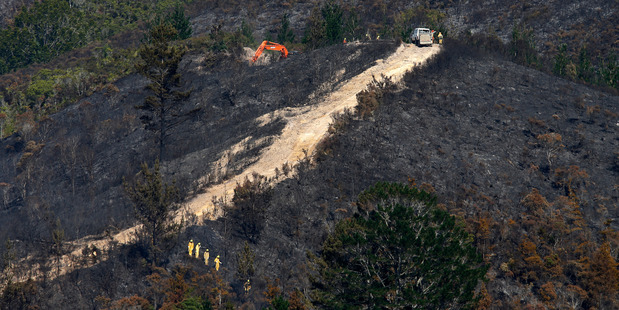 Fire and Emergency's principal rural fire officer Myles Taylor said while the fire was contained three helicopters remained on standby as ground crews began the hot and dusty work of ensuring hot spots were dampened down and the fire perimeter was secured.
He said it was the biggest wildfire he had dealt with in six years.
A team was expected at the site today and to remain over the weekend. A thermal camera would be used to detect any hot spots.
Fortunately helicopters using monsoon buckets were able to utilise nearby water dams and a large river.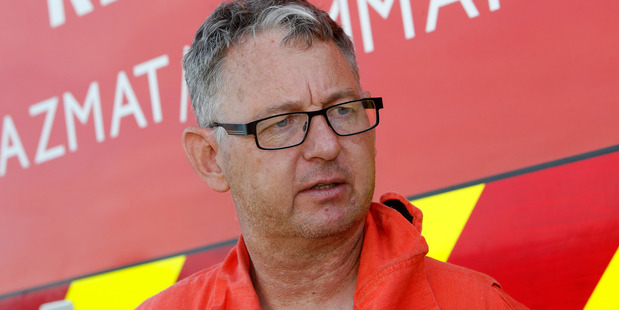 "Quick turn around times for the helicopters meant we got on top of it," Mr Taylor said yesterday.
"We will be monitoring it very closely especially as the day heats up and making sure there are no breakout fires. We haven't got to the point where we can turn our backs on it."
Of concern was rising winds forecast for Sunday but rain for Monday and Tuesday could ease the situation.
An investigation has been launched and the point of origin has been identified but Mr Taylor said he was unaware of how the fire started.
"Most fires started in Northland are the result of unattended rubbish fires and I don't know exactly what started this fire but it is quite possible that may be one of the options."
The wildfire threatened two houses but fortunately it burned up the steep slope away from the homes. Part of the land is owned privately and the rest is Maori land with multiple owners.
Just this week Mr Taylor warned how dry the conditions were in Northland - saying they were ripe for major fires - and while a restricted fire season was in place that was being monitored and it could easily become a prohibited season where no fires were permitted.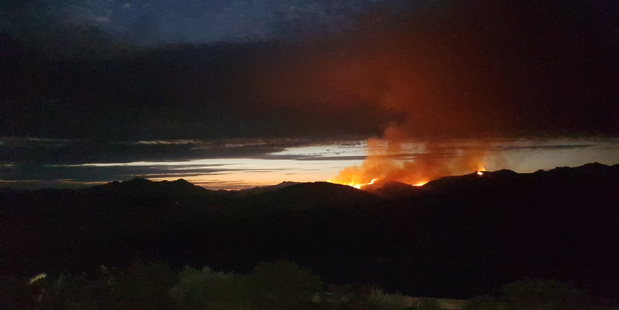 A restricted fire season meant people wanting to have a fire must apply for a permit and, if one is issued, strict conditions must be met.
Anyone who knowingly or recklessly lit, or allowed another person to light, a fire in an open area covered by the restriction without a Fire and Emergency NZ permit, or outside the conditions of a permit, would be committing an offence.
"A fire can start pretty easily when it's so dry, so people need to pay attention to the conditions around them. They need to act in a safe way and be extra vigilant."
Over recent years fire authorities have begun taking a harder line on illegal fires, including charging the people responsible for the cost of fighting them. Any permits already issued will be suspended in the event of a prohibited fire season being declared.
The maximum penalty for breaching a fire ban is a $2000 fine or six months in jail, and anyone responsible for starting a blaze can also be forced to pay firefighting costs which can run into tens of thousands of dollars once helicopters are called in.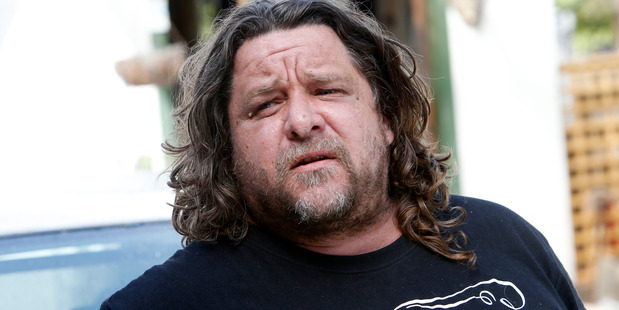 Nigel Holland, who lives across the valley, said the fire was scary and he was pleased no one was hurt or had their homes burnt down. He said it looked like "a glowing Great Wall of China".
Looking at the fire about 11.30pm on Thursday night he said there was a wall of flames.
"It was pretty amazing to see."
Yesterday cars parked at his property were covered in a thin layer of ash.