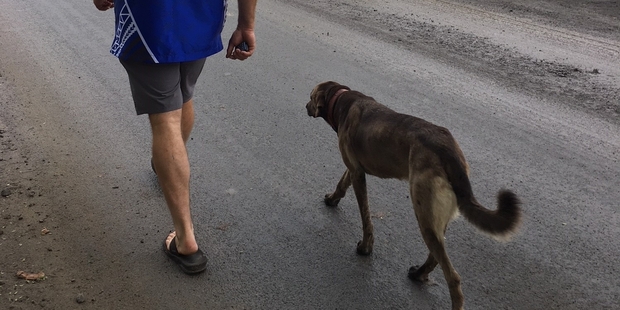 When you live in the country it is sometimes possible to tell what time of year it is just from the sounds you can hear. For me, early summer and the approach of Christmas is signalled by the melodious early-morning trumpeting of spare bulls.
The bulls with the herd are too busy and tired to make much racket, but the resting bulls have regained their energy and want to make sure they're not forgotten, and serenade us enthusiastically as the sun rises, like roosters. Big, hairy roosters.
This time of year also sees a giant leap in the grocery bill and laundry pile, due to a sudden influx of young adults. Our two girls are home from university for the summer, and the house is full to overflowing, every bedroom occupied and sometimes the floors, garage and front lawn too, with an assortment of visitors.
All the showering puts a strain on our precious tank-water supply so I'm constantly nagging about "two-minute showers" and telling people to reuse their swimming towels so the washing pile doesn't get too daunting.
It is lovely to have the girls home and for a change not be outnumbered by the males in the house. They're also a source of amusement. Our elder daughter is working on the farm as her summer job, and sometimes helps with milking - the other morning she was fumbling around under a cow trying to find the teats so she could put the cups on, and suddenly realised it was no udder she was dealing with, but an enormous pair of testicles.
The other one landed a summer job in forestry, which meant fitting her out in a hardhat, steel-capped boots and tool belt. She refuses to show me a picture of herself in work attire in case I share it on social media - now, would I do that?
She spends her days clambering over hills and through bush all over Northland, is thoroughly enjoying it, and looking far healthier after a few weeks doing this than she did at the end of the university year after several months of a steady diet of tequila, pizza and chicken nuggets.
Having the girls home means it's a good chance for Bruce and me to escape, knowing there are (reasonably) mature adults home to look after all the animals and supervise the boys. Bruce organised a trip away but didn't tell me where we were going. He also entered us in the farm environment awards, so I found myself on the day of departure to our mystery destination with two columns due in, a raft of pre-holiday office work to deal with and a panel of judges to entertain.
Everything worked out, and we fled the chaos for tropical paradise in Rarotonga. Not many cows live there but as anyone who has visited will know, a multitude of chickens do. No bulls serenaded us with their dawn chorus, but roosters crowed raucously from 4.30am each morning.
Rarotonga seems an animal-friendly place. Off for our first walk on the beach, we were struck by the number of people enjoying their saunter along the beach with a canine companion.
We discussed how much Milo would have enjoyed a tropical holiday, and wondered what prompted people to fly their nondescript mutts to a foreign country.
Eventually, noticing the number of friendly, collar-wearing dogs hanging out in the streets and at food joints, it dawned on us that the animals weren't holiday companions, they lived here and casually adopted random strangers for a few hours. It wasn't long until we had a canine friend shambling alongside us and newbie tourists stared, wondering why we'd brought our dog on holiday.