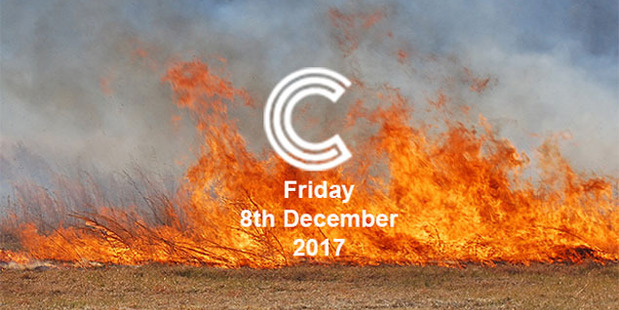 Today The Country catches up with Seales Winslow's Chief Executive Chris Brown after the stock feed company suffered a devastating fire at the Ashburton plant this week.
On with the show:
Lisa Murray:
Our Met Service forecaster says we can expect the heat and the dry conditions to largely continue for December.
Chris Brown:
We catch up with the chief executive of stock feed company Seales Winslow after the devastating fire at the Ashburton plant.
Graeme and Graham Smith – The G Spot:
Today's panel features the two G Smiths. One fights drugs, the other fights for farmers.
Don Carson:
The PR Man for the Forest Owners Association puts on his Middle East correspondent's hat and we discuss the delicacy that is the mutton pie.
Barry Soper:
Our political correspondent ponders the performance of Jacinda Ardern and whether Labour is taking credit for some of National's pre-election policies.
Grant Nisbett:
This week's $100 TAB sports bet of the week sees us backing Kane Williamson to top score for the Black Caps in the first innings against the West Indies in Hamilton.
Listen below: