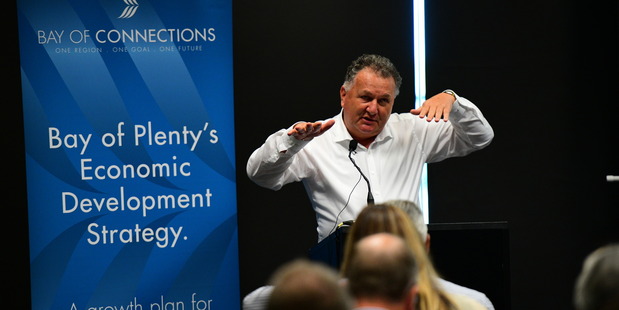 Bay of Connections is celebrating 10 years of contributing to economic growth in the wider Bay of Plenty.
Bay of Connections governance group chairman Doug Leeder said work over the past decade, much of which has started to bear tangible results throughout this year, positions the region to build on its success with a new government keen to focus on regional economic development.
"Bay of Connections was established in 2008 with a vision of creating a prosperous region supported by sustainable sectors, in partnership with industry, regional agencies and stakeholders, as well as local and central government.
"Throughout 2017 in particular, the strength of the connections built over the past 10 years have become even more visible. The essential foundations built over the past decade in regional economic development are now showing us tangible results."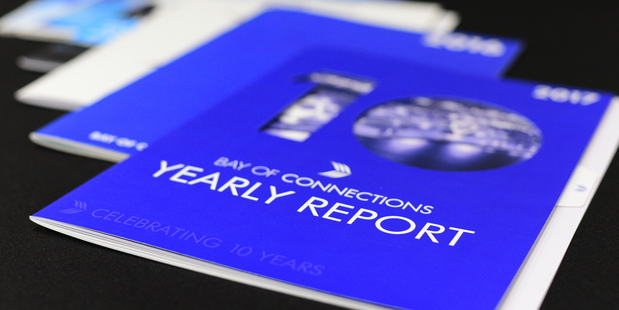 In a statement, it said highlights from 2017 included: refreshing the Bay of Plenty Regional Growth Study (RGS) Action Plan after 18 months of successful implementation; the appointment of a Maori Economic Development Navigator to progress the Maori Economic Development strategy, He Mauri Ohooho; $8.4 million funding received for a regional research institute, PlantTech, and; considerable collaboration and governance training to bring together landowners and potential investors to progress industries such as Manuka honey, direct use geothermal and kiwifruit.
"Bay of Connections, the New Zealand Geothermal Association and the Government – through the Ministry of Business, Innovation and Employment – have contributed a total of $300,000 over two years to stimulate demand and investment utilising the region's geothermal resources.
"Along with the Minister for Regional Economic Development, the Hon. Shane Jones, we are delighted to announce that geothermal expert Andrea Blair has been appointed to this project. She has already set some initial targets for the region, including a number of new geothermal initiatives to be established across the region in the next two years, each creating significant new job opportunities.
"This is just one example of our regional and government relationships working together to advance local opportunities."
The statement said other significant highlights included further progress on the Opotiki Harbour Development, which has now reached the preferred tenderer stage, as well as the parallel sea farm development off the coast of Opotiki. The Kawerau Industrial Hub development is another project that has gained traction this year and will positively impact the wider region.
The Rugby Sevens strategy was also completed in 2017, with international relationships, ongoing events and education pathway opportunities built over the past five years. A new, wider strategy will be launched in 2018.
"Significantly, this year has also seen the early development of a regional Visitor Economy strategy – the first time our entire region has come together to focus on our combined visitor proposition.
"Tourism is a critical sector for our region, and together, our strength is in the diversity of our sub-regions and what we have to offer individually, as well as collectively. I'm looking forward to the advancement of this strategy – as well as putting our combined support behind each sub-region's visitor economy priorities."
It said from the beginning Bay of Connections and the people involved in it had sparked connectivity throughout the region and all its different parts.
"Some projects over the past 10 years have led to regional and national investment for capital projects, for example freight logistics, while other strategies have established baseline support in burgeoning industries such as aquaculture, geothermal and fuelling Maaori land utilisation," Leeder said.
"Ideas, vision, relationships and results – all these things have inspired a desire to be involved and recognise the power in working collectively. The organic growth seen over the past 10 years is a result of the commitment to remaining industry-led and providing a framework of enablement, advocacy and communication to help support industry growth – and ultimately jobs."
Bay of Connections will celebrate its 10th birthday with the release of its 2017 Yearly Report. The report is available here.
Background
The Bay of Connections is driven by a governance group representing Eastern Bay of Plenty, Rotorua, Taupo and Western Bay of Plenty, in partnership with the Bay of Plenty Regional Council, New Zealand Trade and Enterprise and the region's economic development agencies.
The Bay of Connections strategy was initiated in 2008 and revised in 2011 and refreshed in July this year. It has a strong sector focus and identifies nine key sectors where the wider Bay of Plenty region has a point of difference and potential competitive advantage.
To date, specific sector strategies have been developed for aquaculture, forestry and wood products, horticulture, energy, water, freight logistics, education and skills, visitor economy, Rugby Sevens and Maori Economic Development Strategy (He Mauri Ohooho).