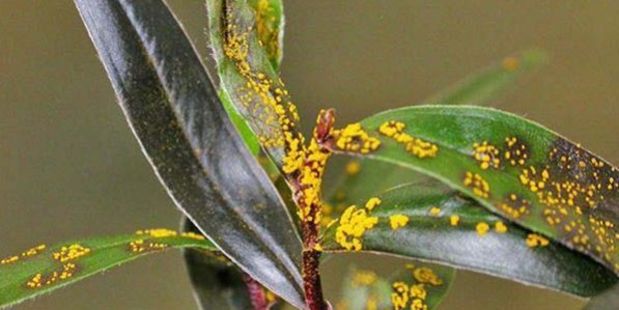 The fungal disease myrtle rust is strongly suspected to have been found on a property near Aongatete after a resident sent the Ministry for Primary Industries photos of yellow-coloured rust on their ramarama plant.
It joins the hot weather northward advance of the disease from Te Puke, with the first cases of myrtle rust confirmed on two Bethlehem properties earlier this week.
Read more: Crippling plant disease myrtle rust found in Tauranga
Ministry senior communications advisor Lesley Patston said the disease had yet to be positively confirmed although based on the photo of the ramarama plant, it was highly suspected to be myrtle rust.
Patston said ramarama plants seemed to be the canary in the mine and were the most quickly affected by the disease which attacked soft new growth on the myrtle family of plants.
Once it was confirmed, checks would be made of all myrtle plants within 50m of the ramarama, with the potential for the search area to spread to 500m.
Grant Tennet, whose Te Puna citrus nursery was not affected by the rust because citrus was not a myrtle species, believed the ministry was hitting its head against a brick wall in trying to control it. He said the disease could be managed in nurseries and commercial orchards.
''But out in the hills who will be spraying?''
The good news was feijoas were a lot more resistant to myrtle rust, Tennet said.
Outbreaks of the wind-born rust were followed by a team from the ministry removing all affected plants.
Patston urged residents to check their myrtles for signs of the tell-tale rust.