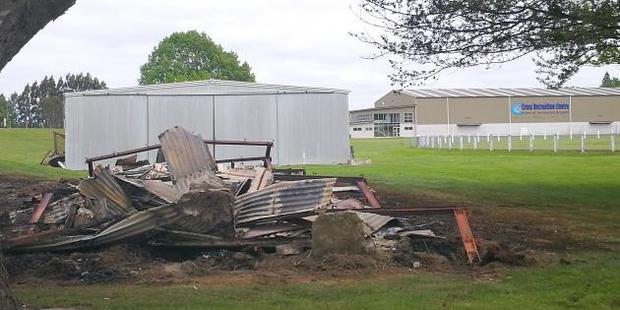 The annual South Otago A&P Show will go ahead despite a suspicious fire destroying a stable at the Balclutha Showgrounds early yesterday.
A Fire and Emergency New Zealand spokesman said the fire was being treated as suspicious and was under investigation.
The stable block was not connected to electricity.
Police discovered the fire and alerted FENZ at 2.20am.
Fire services arrived at the scene at the back of the showgrounds in Glasgow St to find the shed "well involved''.
"The stables were about 20m by 8m and totally involved in fire.''
The shed was extensively damaged.
Police put a scene guard in place overnight, Mr Norris said.
South Otago A&P Society treasurer Katy Button said the fire was a setback as the society was preparing for its annual show on Saturday, November 25.
Not much was left of the stable after the fire, Mrs Button said.
"It's just a crumpled mess of tin and what doesn't burn.''
It was also annoying as the stable had been in the process of being renovated.
The society was insured and a new stable would have to be built.
Despite the "frustrating'' inconvenience, the show would go ahead as planned, Mrs Button said.
"The show is still all systems go. It's just another thing we have to sort out when we're meant to be busy getting ready for the show.''
The society also had to ensure the site was cleared up in time for the show due to health and safety regulations.
samuel.white@odt.co.nz