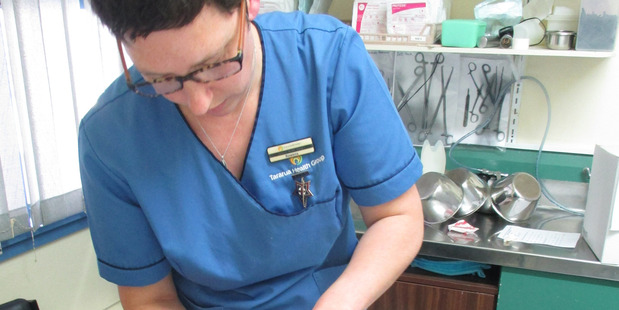 A Dannevirke nurse's desire to improve the lives of those in her community has resulted in her becoming the first in New Zealand to achieve a rural nursing specialty.
This September Rowena Panchaud graduated with a brand-new qualification, a Graduate Certificate in Nursing Practice: Rural Nursing Speciality.
The certificate, comprised of 10 papers specialising in rural nursing practice, was specifically designed to upskill nurses to meet the unique challenges faced in isolated rural settings.
Ms Panchaud was one of the very first to sign up for the new certificate and said it ticked all the boxes for her.
"Coming into this course I had only generalist nurse training in an academic sense but the practical skills I've learned these past four years have significantly improved my confidence and skill level and exposed a passion for learning."
Born and raised in rural North Otago, the married mother of two has lived in Dannevirke for more than 10 years and said she was committed to supporting the health of her patients she sees through the Tararua Health Group.
"When you live in a rural community you live there and work there. So anything that I can do for my rural community in terms of my work directly affects my rural community which is me.
"The course certainly has been a fantastic way of broadening my knowledge as well as focusing it where it's really helpful and useful."
Rural emergency care, infection control management, respiratory system management and pain management for care of the dying were just some of the papers undertaken in the course.
Ms Panchaud said it was important rural nurses could practice a broad range of health services as rural folk, who often travelled long distances to get to clinics, could not be referred to another health practitioner as easily as those being seen in city clinics.
"We've lost a few GPs in the district in the past year which makes nursing experience all the more vital. We have a fantastic team of doctors, nurses and midwives who all pull together and deliver excellent care" says Rowena.
Developed by Mobile Health in partnership with Christchurch tertiary provider Ara, where Ms Panchaud studied by distance, the course was developed to invest in the academic pathways available to nurses and give back to the rural sector.
Ara Principal Nursing Lecturer Lorna Davies, who designed the certificate course, said the unique focus on flexibility for rural nursing students was key.
"The fact that much of the essential learning can be done online, anytime and anywhere, has been a major factor in the course's appeal for rural nurses, cutting down the need for on-going travel to a major centre for large blocks of learning, saving on accommodation and travel expenses as well as time away from jobs and families."
She said four more rural nurses, based in Hurinui and Wairarapa, were poised to soon join Ms Panchaud as course graduates.
The Dannevirke nurse said completing the course had started a fire in her belly and she now planned on further study towards her nursing Master's degree next year, with a Nurse Practitioner qualification her long-term goal.