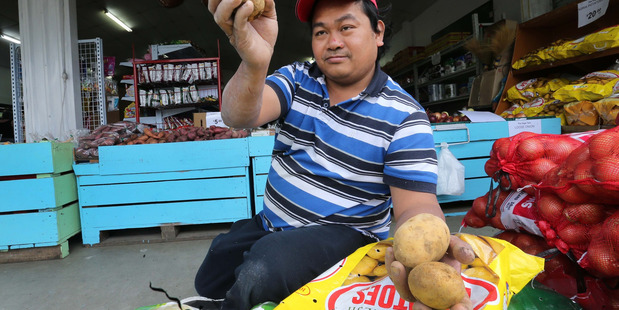 It may be a case of all smoke no hangi for rootcrop lovers in Northland this festive season with a shortage of spuds worrying sellers and buyers alike.
Already stocks of potato chips in supermarkets are stretched as the country battles a shortage of the starchy delight after wet weather impacted on supplies from Pukekohe, Matamata and in areas further south.
Crisping potatoes are the worst hit.
High prices for kumara and everyday vegetables have exacerbated the problem. Supplies are likely to return if rain clears and the North Island gets more sunshine from next month.
Chheun Sean, owner of The Veggie Twins on Kamo Rd, said Christmas and New Year could be ruined for a lot of families if the spud shortage continued.
"In my 10 years of running this business, I've never seen a situation this bad.
I normally order one pallet which is equivalent to one tonne of potatoes but now I can only get half a tonne."
Mr Sean buys potatoes from companies in Whangarei that source them from growers in Pukekohe, south of Auckland, where bad weather has hampered growth during winter.
"Customers query why the prices are high without knowing why but I explain to them that the shortage is because of the weather. It's something nobody has control over so we just have to hope for the best," he said.
Whangarei Growers' Market manager Robert Bradley said the supply of fresh potatoes would be affected to a smaller extent but prices would go up.
"If the weather warms up by the end of this month, then we'll be alright but if it carries into November, then we'll have problems. Cold wind and cloudy days are not helping.
"It pays for people to remember that the actual weight of potatoes in the ground is directly related to sunshine."
Mr Bradley said Northland's warm climate was good for fresh potatoes but if they were stored in the ground they re-sprouted because of a lack of frosts.
Potatoes New Zealand chief executive Chris Claridge said fresh potatoes would still be available in Northland but prices would remain "firm".
The region's hospitality sector, he said, would not be seriously affected as it bought potatoes from throughout the country.
New Zealand was last hit by a potato shortage in late 2014 and early 2015 for similar reasons.