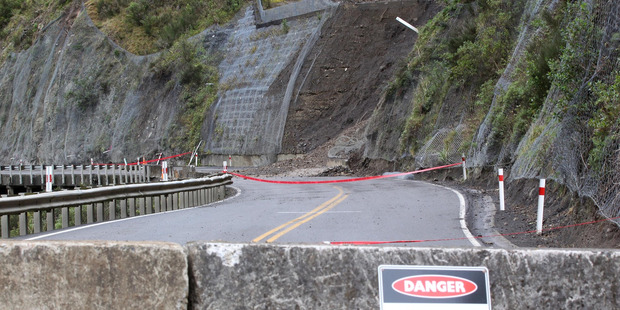 The announcement that Manawatu Gorge road is not an option for NZTA means the end of an era for motorists driving through the scenic route. It will be permanently closed as a through road.
It's an emotional time for some people who have admired the majestic scenery and are going through a grieving process as they know they will never be able to drive through it again.
Not all memories were fond ones, with rock falls being a constant threat.
Read more: Manawatu Gorge will never reopen - NZTA
Final options for Gorge revealed
A former headmaster of Woodville School was driving through when a rock slide meant he had to stop his car, get out and clear it.
Just as he was pushing the rocks out of the way a big slip came down and nearly swept him into the river below. Truck drivers would sometimes have to stop and yield to a truck coming the other way on some corners as there was no room to pass.
Talk of a major crack in the middle of the gorge at the top has put off a number of motorists from ever wanting to go through it again even if it was reopened.
Public meetings recently were shown 13 options which included the possibility of using tunnels or a bridge through the existing route.
These options were necessary due to the closure of the gorge by a massive slip earlier this year and instability of a rock wall which is moving. It is too dangerous for workers to clear the slip.
But public meetings last week revealed four options which omitted the gorge route altogether.
The Saddle Rd option will not be a starter as Tararua District Council opposes this as it would mean major disruption with lane closures.
That leaves a route north of the saddle, a route south of the saddle on the northern side of the gorge and a southern route south of the gorge.
The southern route gets the nod from Tararua District Council due to the short travel time from the transport hub in Palmerston North to the Port of Napier. The southern option would cut about seven minutes off the gorge route option.
Woodville and Pahiatua will benefit from this option which could be a four-lane highway and will mean living in the Tararua and working in Palmerston North will be more attractive.
Some Palmerston North people have been too scared to drive through the gorge but a quick expressway over North Range Rd may make a Sunday drive to Woodville something to be considered. This could put Woodville on the map again with its unique cafes and antique shops.
Hopefully part of the route will remain open for tourism and access to walking tracks. Geologically it's one of only three in the world to have a river flowing out to one coast, then turn around and flow out to another coast.
It is known as an antecedent gorge which was formed by Woodville being a giant lake which flowed over the top of the ranges. Over millions of years it cut a way down through the rock to empty the lake and form the gorge as we know it today.
Eyebrows have been raised with the proposed construction time of the route options ranging from five to seven years.
This time could be cut back if enough money and resources are put up and now is the time to protest about this delay.
Woodville businesses will be the ones to suffer if consents and construction are dragged out time-wise.
The Government needs to treat this seriously and have emergency relief packages available to support affected businesses. The consent process needs to be fast-tracked too.