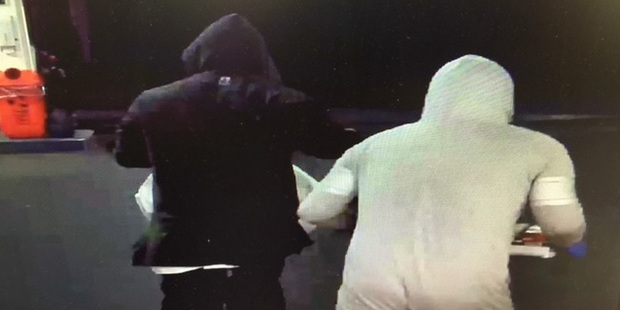 Whanganui police have dealt with at least nine aggravated robberies in the city since last December.
The file has been closed on one case but police are continuing to investigate three robberies, with arrests made in relation to five other incidents.
Investigations are ongoing into the aggravated robberies of the Rangitikei St dairy and the Z service station in Dublin St in September.
Four males aged 18 to 20 years robbed the Rangitikei St dairy on September 9. Three entered the shop, leaving one person outside. They used a hammer to bash the male owner and a woman who came to his aid, leaving both with head injuries. The robbers demanded cash and cigarettes but fled with only confectionery.
On September 22 two males, one armed with a knife, took tobacco and cash from the Z service station in Dublin St. Last week police released CCTV images of the offenders and appealed for help from the public to identify them.
Police are also continuing to investigate the robbery of the Castlecliff Camp Store in Rangiora St in April. Four offenders used a small red Mazda car to smash through the roller door of the shop. Money was stolen from the premises.
On December 11 three offenders took alcohol, cash and cigarettes from the Black Bull liquor store in Purnell St. A police spokeswoman said no arrests have been made and the file has been closed.
Since last December police have apprehended offenders in a number of robberies including:
- Polson St dairy on September 9: Two young offenders, who demanded cigarettes and cash, smashed the counter with hockey sticks. Two youths have been referred to Youth Aid.
- Fitzherbert Ave dairy on May 21: Two offenders, one armed with a firearm and the other with another weapon, stole cash and cigarettes. The owner was left injured and in shock.
- Castlecliff Hotel on May 3: Two people were arrested after the hotel was held up at gunpoint.
- McDonald's restaurant in Liffiton St on April 27: Four offenders demanded money before fleeing across State Highway 3. One person has been arrested.
- BP Connect service station in London St on December 13: Four armed offenders made off with cigarettes. Two people were arrested.
Anyone with information that may assist the police in relation to any of the robberies should call Whanganui Police on 349 0600 or Crimestoppers on 0800 555 111.