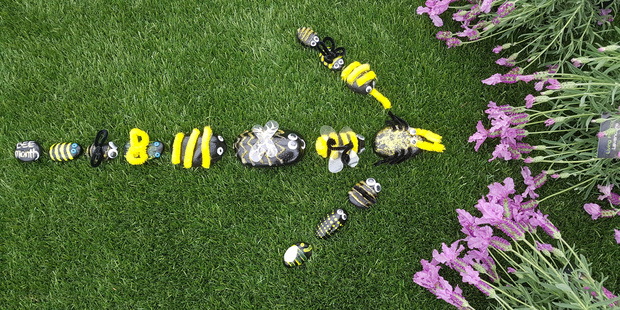 Children can get some fresh spring air while hunting for bees these school holidays to mark Bee Month.
The staff at Palmers Rotorua have been busy decorating at least 140 rocks for a bee hunt.
Rachel Beckett says children can bring the bees back to Palmers on Sala St and receive a surprise - one per person - or re-hide them.
The bees will be hidden at the Rotorua Tree Trust through the main areas and will be out by 11am tomorrow, with the hunt finishing at the end of October.
This is a great opportunity for kids to get out and about this spring and encourages children to be more aware of bees, she says.
She says this is the first time they have done a bee hunt for Bee Month, which takes place in September.
They usually set up a display and a member of the Rotorua Honey Bee Club has lent them a hive, she says.
There is also a talk being held at Palmers tomorrow at 2pm by members of the Rotorua Honey Bee Club.
They will be sharing their experiences as recreational beekeepers.
They will introduce those attending to the basics of beekeeping, how they became owners of hives, what is involved in the day-to-day management of a hive and suggestions of what to consider when planting your gardens to support a healthy bee population in your area.
People can also see some of the tools and equipment used by beekeepers to manage their hives and have a sample of honey to taste.
People do not need to register and can just turn up on the day.
Rachel says it is about involving the community and raising awareness for Bee Month.
She says it is important to help people recognise what honey bees are, as they often get confused with wasps, and to realise the integral part they play in the whole food cycle.
There will also be sheets available so people can learn about plants and which ones are beneficial to bees.