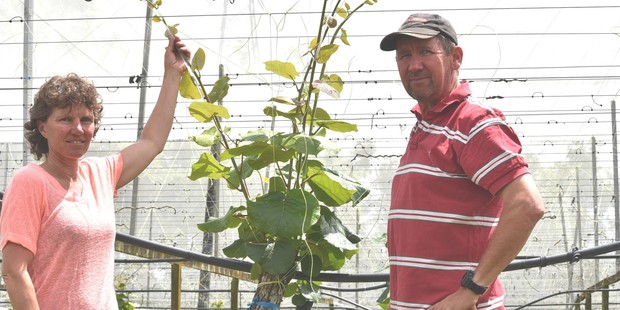 Entering the Bay of Plenty Ballance Farm Environment Awards encouraged Whakatane kiwifruit growers Iain and Leanne Blackwood to "sharpen their game".

The couple both work full time on their 7.95ha orchard, which includes 4ha of SunGold, 0.61ha of Sweet Green (G14) and 3.3ha of Hayward Green.

"We entered after talking to our neighbour's daughter, who worked for Zespri, encouraged us to have a go," Iain said.

The Blackwoods were still developing the golden kiwifruit when they were judged.

"The place didn't look that flash because it was a work in progress really. But we thought we'd have a crack and try to get something worthwhile out of it. We have reasonable production but agreed the orchard could look a lot tidier.
"We're going to plant some native trees on the boundaries and in areas where we can't produce fruit to help get the bird life back in and improve the aesthetic look of the orchard. We're also looking at planting males there so we can harvest the pollen from them."

He said entering the awards was a worthwhile process and they would enter again in the future once they worked through some of the items in their feedback report.
"The orchard will also be in far better shape with grown vines and full canopies. It was good to enter in the early stages though so we stepped back and looked at the business from the outside. Sometimes you're so busy just producing fruit you don't see what's right beside you."

Entries for the 2018 Bay of Plenty Ballance Farm Environment Awards close on October 27.

The first round judging will take place from October 30 through to November 17 when the finalists will be decided.
Award winners and the overall supreme winner will be announced at an award ceremony dinner on February 23, 2018 at ASB Baypark Arena at Mount Maunganui, Tauranga.
Farmers and growers can enter online at www.bfea.org.nz or contact regional co-ordinator Kirsten Winter at bop@bfea.org.nz or 0275 721 244.