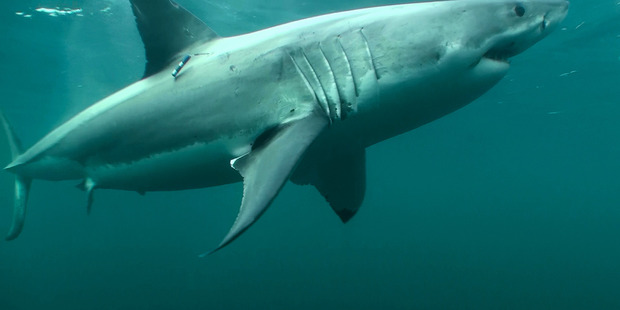 I hope the person who suggested trying to catch the great white shark seen off Whangarei's coast this past week was joking.
The comment was on our Facebook page, which featured an Advocate website story about a diver's close encounter with a 5.5m great white shark last Thursday.
The Whangarei man was off Peach Cove, near the rocks, and 5m below the surface when the great white first passed close by.
Read more: Whangarei diver face-to-face with huge great white
Large great white spooks Whangarei crayfish diver
The diver surfaced, waved his mates over in a boat and who knows what went through his mind as the shark passed by him another three times before they arrived.
Another Facebook comment noted: "Brutus is back".
Apparently Brutus is a large female great white sighted frequently off Whangarei, but farther out to sea, and not so often recently.
Smaller, male great whites have been spotted near Smugglers Cove, and the Frenchman Island, just inside the Whangarei Harbour.
And it's not just our diver who has been spooked - a kayaker had a large shark breach near him while fishing off the Power Station at Bream Bay two Sundays ago.
Other than diving, kayaking is as close to the water as you can get when you are fishing.
Something large smashing into the water, especially on a calm day when you are in a kayak, is a sure way to have your adrenaline pump at record pressures.
As for catching great whites, they are protected.
And the only thing scarier than a close encounter with a 5.5m great white shark that's not angry is a 5.5m angry great white shark with a large hook stuck in its mouth.
A few years back someone tried to catch bronze whalers off the wharf at Parua Bay, with large hooks and a bit of clothesline.
A fair bit of clothesline vanished into the harbour.
Sharks are apex predators and not great eating.
I say leave them be - we're intruders in their house and if we treat them with respect, they tend to leave us alone.
Pegs are best attached to clotheslines - not bronze whalers.