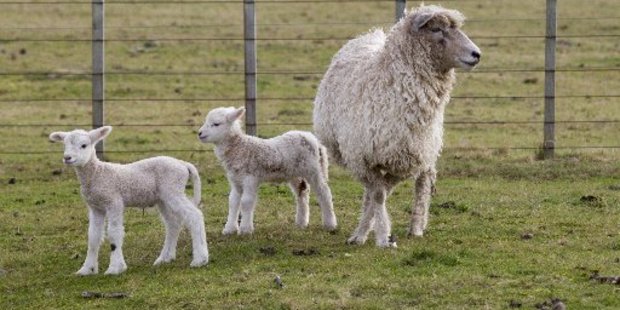 With this unpredictable and truly mixed weather, and ewes and does getting ready to lamb and kid, let's talk about a potentially life-threatening condition called "sleepy sickness".
Sleepy sickness, also called pregnancy toxaemia, affects ewes and does, particularly those carrying twins or triplets, in late pregnancy.
A sudden restriction or shortage of feed in the last two months of pregnancy, inadequate shelter during this time (especially with the wet and chilly weather we've had recently) or concurrent problems such as previous liver damage from facial eczema, cause the ewe or doe to go off her food and go into a negative energy balance, essentially not taking in enough energy to maintain herself and the pregnancy.
Clinical signs include separation from the flock. Appetite is lost and as the disease progresses ewes or does may appear blind, wander aimlessly and show little response to the presence of humans or dogs.
Occasionally nervous twitching of the ears and eyes and around muzzle may be noticed. If left untreated she will become recumbent, stargaze and eventually become comatose and die.
At the advanced stage, kidney failure often develops and even with treatment, death may be inevitable.
Early vigorous treatment is essential for survival as metabolic changes become irreversible towards the later stages of the disease.
In early stages, oral treatment with an energy supplement like KetoAid or Ketol may be sufficient to raise blood glucose levels, but more severe cases may require an intravenous injection of suitable medications given by the vet.
Plenty of easily accessible feed and water should be offered and grazing should be encouraged.
In some cases, a caesarean section is done to remove the lambs or kids from the uterus and reduce the metabolic drain on the ewe or doe during pregnancy.
As always prevention is better than cure, so avoid sudden changes in feed levels and provide plenty of good quality feed for pregnant ewes and does.
Take care when yarding animals for shearing or other reasons and have them yarded for as little a time as possible so ewes can get back to grazing quickly. Reduce stocking rates during pregnancy, maybe moving rams, lambs or dry stock off the property, and consider getting ewes scanned to detect which are carrying multiple lambs so these can then be preferentially fed.
It is also important to prevent liver damage from facial eczema by using zinc bullets in summer during the FE risk period.
If you are concerned about your pregnant ewes or does developing sleepy sickness, call your vet sooner rather than later. The sooner we can provide treatment, the better the outcome is likely to be.