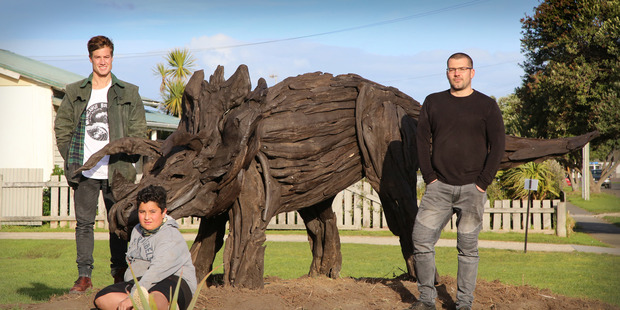 Castlecliff is welcoming it's latest member of the community but he or she is yet to be named.
Whanganui artist Jack Marsden Mayer, owner of Animal Driftwood Sculptures, contributed a piece to the development project Progress Castlecliff on Saturday.
The "no-name" dinosaur has set up camp next to the Citadel cafe in Rangiora St in Whanganui and already it has received a positive response.
Twelve year-old Kaylym Leota said it was awesome. "I'd name it the beast."
Mr Mayer said it was the first of his collection to be put on permanent public display in Whanganui.
"Over the last eight years I have made 38 moas, among other animals, which are now dispersed in people's garden, houses and to councils all over New Zealand," Mr Mayer said.
My Mayer said the dinosaur was made from driftwood collected at Castlecliff Beach which makes it pretty relevant.
"It's taken me about six weeks to make and I orginially had taken it up for a competition in Devonport but unfortunately it didn't win anything," he said.
"In a committee meeting we discussed what people wanted Rangiora St to embody and that was an eccentric wildness of the west coast look, so I think the dinosaur works really well," Progress Castlecliff committee member Jamie Waugh said.
Mr Mayer said they wanted to remind the public that it was a sculpture and was not meant for climbing on.
"We will be planting it out [today] ... we are also running an informal competition on Facebook to name the dinosaur."
To enter a name for the dinosaur visit: https://www.facebook.com/progresscastlecliffofficial/