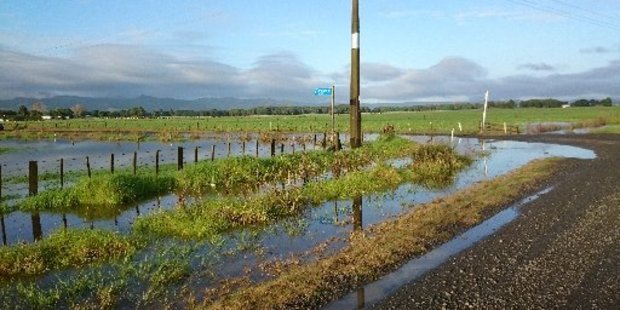 The very Far North was spared last week, but other parts were once again subjected to very heavy rain.
The Whangarei district copped the worst of it, Glenbervie Forest, north-east of the city, recording 72mm in the 24 hours to 5pm on Thursday. Ngunguru recorded 65mm over the same period, with 64.5mm at Puhipuhi, 52.8mm in the central city and 48mm at Oakura.
According to Northland Regional Council figures Kaeo received 44.5mm, Waitangi 43.5mm and Otiria 43mm)
There were no known road closures, however, and the Kaeo River did not top its banks.
The only weather-related emergency call-out, on Thursday, was on Inlet Road, Kerikeri, where a tree fell at about 9.30am, causing traffic to back up in either direction until volunteers from the Kerikeri Fire Brigade arrived with chainsaws.
Kaitaia, meanwhile, received a total of 14mm over the first 72 hours of August, Thursday producing just 1.7mm.
It was a different story in July, the Northland Age recording 184.8mm of rain on 25 days, compared with the average of 160.9mm on 20 days.
That took the total for the year to date to 1125.9mm on 106 days, compared with 937.9mm on 101 days over the same period last year and the average of 819.3mm on 101 days.
Tony Schluter recorded 182mm on 25 days at Lake Ohia, for a seven-month total of 1033mm on 91 days, compared with 1034mm on 103 days over the same period last year.
It wasn't warm either. According to NIWA, Cape Reinga's maximum air temperature, of 10.8 degrees Celsius, was its equal-lowest (since 1971), while Kaikohe (8.8 degrees) and Kaitaia (10.3 degrees) recorded their third-lowest and equal third lowest July maximums on the same day (since 1973 and 1948 respectively).
Kaikohe recorded its third-lowest July minimum air temperature, 1.7 degrees, that day too, and nine days later was buffeted by its third-strongest July wind gust at 96km/h.
NIWA's expectations for Northland for the next three months are warmer than average temperatures, higher than average rainfall, higher than average to near average soil moisture, and near average river flows.