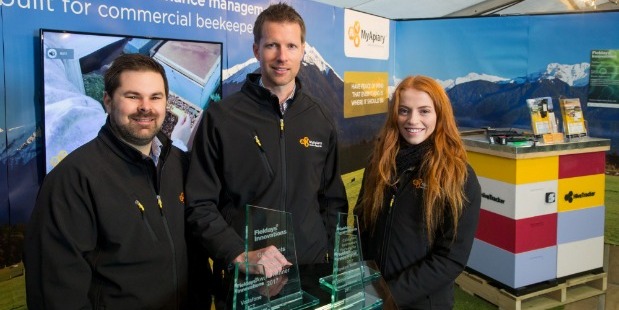 A big winner in the Fieldays Innovation Centre was MyApiary Manager - a new software system from Hamilton based MyApiary Ltd that allows beekeepers to efficiently manage their ever more complex business.
Founder/MD Darren Bainbridge and co-founder Carl Vink received the the Vodafone ICT award, Callaghan Innovation Partnership and Collaboration award, Tomkins Wake IP and Commercialisation award and the Fieldays Grassroots Prototype Innovation award - an impressive haul that will assist MyApiary Ltd take their product to the next level.
Mr Bainbridge says the pair were humbled by the award recognition - but also excited about how many doors that had opened, especially in the corporate sector.
Mr Bainbridge has a background in product development and start-up technology and engineering, mainly in agricultural and medical fields.
He says he was made aware of the need for more technologically advanced management system for the beekeeping industry about four years ago, and has been busy learning about the industry and developing the tool ever since.
Mr Vink comes from a corporate marketing background and is now involved in social investment and management consulting.
Mr Bainbridge says both men are also committed to the industry, as it is socially meaningful. The combination of both of their skill sets and background has been one of the key successes for the company.
"Working together well as business partners has been a huge part of our success to date," says Mr Vink.
"We've found that it takes so much more than a good idea to build a successful company and the way we have connected and supported each other through the development of this business has been a stand out for me."
Mr Bainbridge says the long-term health of bees and beekeeping is crucial to the whole food cycle.
He says there is a lot of mis-information about bees and honey.
"The European honey bee population is thriving world-wide."
"It is the native bee that keeps dying and no-one has found out why.
"Making sure the honey bee business flourishes ensures the future of pollination as well."
MyApiary Manager was developed to replace traditional management methods with a intuitive and modern tool to allow beekeepers to be more efficient.
"We spent a long time talking with beekeepers about their businesses and the challenges they were facing," says Mr Vink.
"We found that they were very confident about growing their hive numbers and producing more honey, but they were seriously struggling with managing the business side of their growth.
"What was working when they were small just simply didn't cut it as they grew."
It became increasingly clear to the two men that an operations and performance management tool was urgently needed.
"We began to build a product that could help beekeepers with record keeping, scheduling jobs and running staff teams, as well as proving reports on how much their different apiary sites were costing them to maintain and service," says Mr Vink.
As well as developing a software solution, bringing a physical hive monitoring product to market has always been at the heart of the MyApiary team.
Mr Bainbridge says beekeepers were definitely interested in what remote monitoring information could provide in terms of improvements in practice, but they didn't have the systems to handle all the data.
"By creating a software solution first we've been able to help bring beekeepers onto a technology platform that will then enable the best use of monitoring data when it is released next year".
The MyApiary team followed up their successful Fieldays campaign by attending the Apiculture 2017 Conference.
"The response from both events has been phenomenal," says Mr Bainbridge.
"We have our work cut out in the next couple of months following all leads and preparing for a global launch."
To find out more visit www.myapiary.co.nz