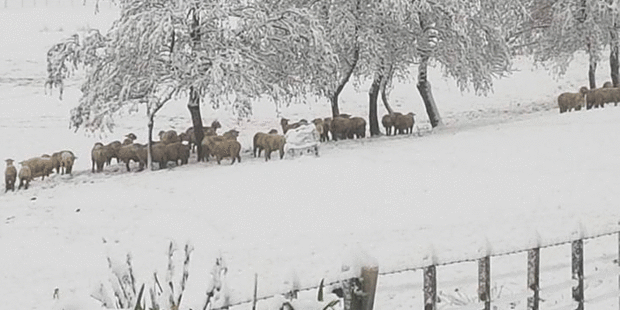 More than 10cm of snow was dumped on parts of CHB during last week's polar blast, which cut roads and left motorists stranded, and caused numerous flights in and out of the region to be delayed or cancelled.
CHB sheep farmers Allan and Megan Chamberlain said they awoke last Thursday to find their Chamberlain Family Farm, on elevation on Rangitoto Rd near Takapau, blanketed in snow.
Mrs Chamberlain said she had experienced the "odd dumping" of snow in her five years at the 387ha farm, but nothing like last week.
"When we went to bed it was sort for raining but then we woke up and it was like a wonderland. I reckon we got more than five inches (13cm)."
"My husband has lived here on the farm his entire life, and he doesn't think he's seen it this bad before," she said.
While it looked pretty, Mrs Chamberlain said the storm and big snow dump had made a real mess, not just for them but other farmers they knew.
"We've got trees and branches down and fences broken. There's a lot of people in the same boat."
Aside from the clean-up, the couple would also have to pay close attention to their stock for signs of potentially fatal 'sleepy sickness', caused by the constant wet and cold and less feed than normal.
"We've got last year's lambs that have not long been shorn that we are trying to fatten for the [meat]works, and of course they haven't got a lot of wool on them and when you get a big dumping like this they can't get to the feed and grass underneath. So they end up pretty hungry and we've got lots of ewes in lamb as well at the moment.
"My husband went around and checked stock [on Thursday] and they looked OK because we've got lots of trees they can hide under, but it's not very nice. They look pretty miserable, the poor things."
The storm dumped snow down to 600m and even 400m in some places, with Norsewood and Dannevirke residents further south waking to snow-covered houses and streets.
Some areas around Dannevirke copped up to 40cm of snow on Thursday, while Norsewood recorded 15cm-25cm in places.
The NZ Transport Agency issued a warning on Thursday for snow and ice on State Highway 2 between Woodville and Waipukurau and also on State Highway 50 between Takapau and Tikokino. Further north, the Napier-Taupo Rd and the Napier-Taihape Rd were both also cut on Thursday.
Fourteen motorists stranded on the Napier-Taupo Rd had to be transported to Napier to spend Thursday night at the Kennedy Park Top 10 Resort, before they were reunited with their vehicles on Friday.
The snowfall on Thursday was followed by heavy rains on Friday. Water was running across State Highway 2 in at least three places between Waipukurau and Hastings on Friday morning, while Porangahau Rd and Herrick St at OngaOnga were closed due to floodwaters, which affected numerous other roads around CHB.
All flights in or out of HB Airport in Napier were either delayed or cancelled on Thursday.
- CHB Mail