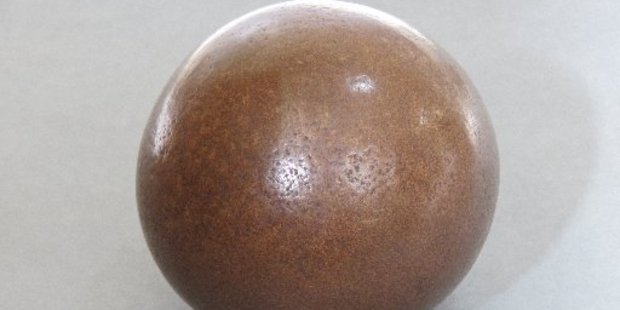 Early European museums were often renowned for having cabinets full of curiosities and freaks of nature as discoveries from around the world were brought back and prepared for public viewing.
Today you can still find such curios and strange treasures of incredulity without even travelling abroad. One such item has recently been on display as the "Mystery Object" in the Whangarei Museum at Kiwi North.
Although not immediately identified by staff members, visitors with a farming background may have had a notion of what the brown, shiny ball was sitting in the display cabinet.
About 112mm in diameter and weighing 387 grams, it is similar in size to that of a regular bowling ball and with its fine glossy surface looks to be varnished like one as well.
However, the item donated by Mr A Vining is actually a Trichobezoar.
This is a bezoar formed from the ingestion of hair which has amassed and been trapped in the gastrointestinal system and is commonly known as a hairball. There are many different kinds of bezoar, but this particular one has been formed into a hard, indigestible mass of hair and mucilage, usually found in the stomach or intestine of specific animals.
Cattle are known to accumulate hairballs, but as they are unable to be regurgitated these are typically found after the death of the animal and can be quite large. This in fact was the circumstance in which the donated hairball was discovered.
It was found by the donor's father in 1880 and was taken out of a bullock's stomach at Gear's Meat Abattoir in Petone, which was known at the time as Petone's "Stink Factory". The trichobezoar remained in the Vining family for the next 90 years until being gifted to the Museum in 1970. It is often said, the older the cow the larger the hairball!
Bezoars of animals were used centuries ago in various places as cures for poisoning and disease and were often incorporated into prized jewels.
From ancient times bezoars were attributed magical healing properties and were believed to be apotropaic with the ability to avert evil influences and deflect misfortune. The superstitious also considered them to have the power of an antidote against poison and able to combat a variety of diseases.
Therefore, bezoars became highly desirable objects and some were even worn as charms or ground down and ingested as cures.
Queen Elizabeth I of England, who ruled from 1558 to 1603, had a bezoar set in a silver ring and one was used as a last resort to cure King Charles II on his deathbed.
These unique objects became very popular among rich Europeans, but by the end of the 17th century people had stopped using them and a few centuries later they were considered obsolete.
The hairball in our collection has not been manipulated for medicinal purposes or converted into jewellery, but the Museum would love to acquire another one to dissect for educational purposes and reveal what secrets lie inside.
* Natalie Brookland is Registrar at Whangarei Museum. Kiwi North (Whangarei Museum, Kiwi House and Heritage Park) is open daily from 10am to 4pm.