Matthew McAtamney is still New Zealand's most eligible rural man - with the 26-year-old revealing he has had just one date since being crowned the Fieldays Rural Bachelor of the Year.
McAtamney won the coveted Golden Gumboot at the annual agricultural event at Mystery Creek between June 14-17.
But despite being inundated with Facebook messages from women around the country eager to meet him, the 26-year-old manager of a beef and deer farm near Fairlie, in South Canterbury, said he had been on only one date since nabbing the award.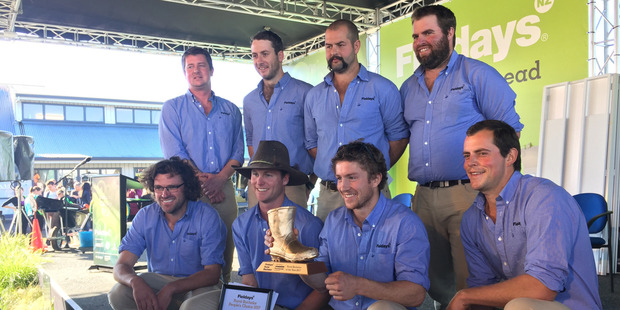 Between working 10-hour days on the farm and following the All Blacks around the North Island for the past few weekends to watch them take on the touring British & Irish Lions, McAtamney - who has been single for about six years - has been busy.
However, he said he planned to make time in the coming weeks to go on a few more dates.
"Life's back to normal now. I suppose I'll keep looking around until I find my match."
The qualities he was looking for in a partner included having similar interests - sport and socialising - and not being afraid to get stuck in to some mucky farm work.
"Someone outgoing and fun, and a bit of humour always helps.
"I like activities, going away, holidays, waterskiing - that's pretty up there with my prerequisites, or at least wanting to try waterskiing.
"I'm very keen on travelling, so if she's keen to go overseas at some point that'd be nice."
Honesty and spending time together were crucial to a good relationship, McAtamney said.
He initially entered the rural bachelor competition because of the prizes up for grabs - a Suzuki King Quad 750 4WD and about $5000 of vouchers from brands like Swanndri and Stihl - so being announced as the winner came as a bit of a shock, but he is now enjoying the attention.
"All my mates did [it] a few years ago and enjoyed it and recommended it because I'm single of course, just for a bit of fun.
"I was pretty stoked. I was certainly hoping to win but I didn't have any idea where anyone was sitting."
McAtamney credited his win to doing "all right" in a few of the challenges.
"Then a lot of it was just crowd interaction and personal character."
Although he's looking for love, McAtamney is still a laidback southern lad.
"I'm not going to panic. I'll keep doing what I'm doing ... not in any rush."