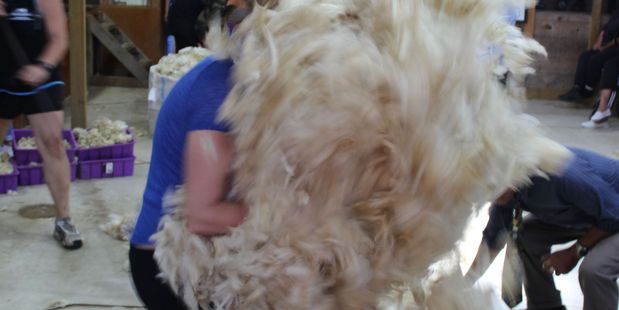 Prices for some crossbred wool grades fell to their lowest level in more than seven years at New Zealand's latest weekly auction as unsold stockpiles weigh on the market amid lacklustre demand from China, the largest buyer of the fibre.
At the latest South Island auction yesterday, 35-micron crossbred fleece wool dropped 5 cents to $3.30 a kilogram from the previous South Island sale a fortnight ago, which is the last time the fibre traded at auction, according to AgriHQ. Coarser 37-micron crossbred fleece wool dropped 20 cents to $3.10/kg from the previous South Island sale and was 15 cents down from last week's North Island sale, according to AgriHQ, which noted prices for both wool types were now at their lowest level since January 2010.
AgriHQ's lamb wool indicator dropped 4 cents to $3.94/kg from last week while the coarse crossbred indicator dropped 5 cents to $3.40/kg.
New Zealand is the world's largest exporter of crossbred wool and weak demand for the fibre, which makes up about 80 percent of the national clip, has weighed on prices this season, prompting farmers to stockpile bales in hopes the market will pick up.
The Ministry for Primary Industries noted in its latest quarterly outlook that the overhang of inventory will make it difficult for prices to rise quickly.
"There was no improvement in the wool market at this week's South Island sale," said AgriHQ analyst Sam Laurenson. "Wool continues to be stockpiled around the country by farmers and merchants alike in hopes for an improvement in the market. This in itself is of concern for future prices, as it could force prices lower once released."
AgriHQ's Laurenson noted that weak demand and a stronger local currency had weighed on prices and the clearance rate at the latest auction.
Of the 8,194 bales on offer only 5,716 were sold, with the 70 percent clearance rate below both this season-to-date clearance of 74 percent and last season's clearance to date of 88 percent.
Next week's North Island sale is expected to have 9,800 bales on offer, which is 46 percent above the average number of bales offered each week in July last year as some stockpiles are released to the market, Laurenson said.
The value of New Zealand's wool exports has dropped by a third to $531 million in the 12 months to the end of May, according to the latest trade data released by Statistics New Zealand this week. For the month of May, exports were down 40 percent to $35 million compared with $58 million in May last year.