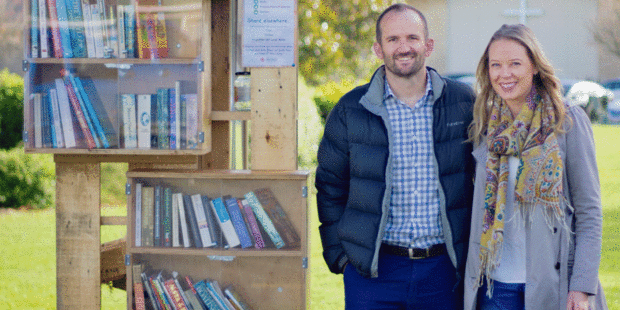 The Sharing Shed, located on Anzac Green, is a mini hub that allows residents to share books and produce.
But Te Awamutu residents are still getting used to the idea.
Founder Shaun O'Dea says the main challenge is maintaining a balance between givers and receivers.
This imbalance can leave The Sharing Shed looking sparse, he says.
"We're hoping to achieve a natural balance where people don't take more than they need and try to return the favour if possible.
We want people to get involved - and as community awareness about The Sharing Shed grows, I'm sure we'll see more people giving and receiving and just stopping by to interact with their neighbours."
The Sharing Shed was constructed from donated wood and Perspex by local husband and wife Shaun and Sarah O'Dea.
Mrs O'Dea says the idea started after seeing a book depository in Vancouver.
"We thought - why not in Te Awamutu? And why not more than just books?
"Lots of people have excess produce in their garden, so rather than have it go to waste, we wanted to create a place for them to share or swap it."
Since then, the couple have seen a wide range of produce and books being shared in the community.
She says the feedback from the community has been positive.
"That's the kind of heart-warming stuff that makes our community great."
The couple hopes to see Te Awamutu residents take ownership of the idea.
"We encourage any interested local businesses or community groups to get in touch to support this initiative."
Mayor Jim Mylchreest says the concept has been "executed excellently".
"It is an easy way to minimise our waste as a community, while benefiting those around us."
You can follow The Sharing Shed at www.facebook.com/TASharingShed/