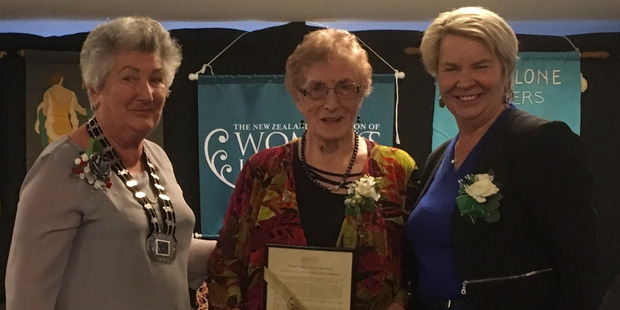 Betty Goldsworthy received the highest award given to a Women's Institute member, a Gold Honour Award, at the NZ Federation of Women's Institutes at their annual meeting in Christchurch.
Betty joined Papatawa WI in 1948 and in her 69 years of service she has served 41 years on the committee and has served as president, secretary and treasurer. At age 88 she is still serving as treasurer. When she moved into town Betty became a dual member of Woodville WI.
She has also served three terms on the Southern Hawke's Bay Federation and has been president, vice-president and treasurer. Betty has been a delegate on a number of occasions at national conferences and AGMs at both national and local level.
In 1991 she helped set up the Papatawa WI walking group which is still going strong and meets three times a week, encouraging members and friends to walk for an hour around various locations. She also inspired members to enter the Relay for Life and organises the fundraising activities with the money going to the local Cancer Society.
Betty is also involved with the Women's Section of the Woodville RSA, the Woodville Horticultural Society and Breathe Easy Group, a support group for asthma suffers.
For her dedicated service, loyalty and generosity she received her Gold Honours Award from WI national president Kay Hart and Nicky Wagner MP Minister of Greater Christchurch Regeneration on Monday, May 29.