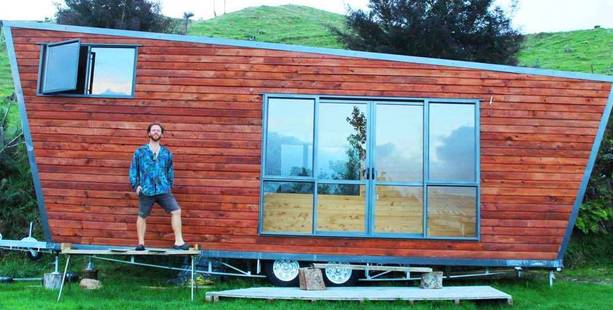 As homes become unaffordable for many couples and families, tiny house living is catching on fast.
Te Puna-based Leo Murray should know - he is in the process of building one.
Leo's recent tiny house build received nationwide coverage and is soon to be aired on 7 Sharp - as a significant case study for small-space architecture, debt-free housing and low-impact living.
The sustainability consultant and permaculture designer plays an active part in nurturing a sustainable culture in New Zealand.
Leo is on a panel of guest speakers who will discuss what's happening in the Bay of Plenty for tiny house living solutions at a second Rethink Project film night in Katikati next Thursday.
Leo will share his story and insights into making his idea of a tiny home a reality.
Fellow panellists include Melissa Cox, Tessa Mackenzie and event organiser Andrew Martin.
Originally from the United States, Melissa lost everything in the Global Financial Crisis when the housing market tanked in 2008. She'll speak about that experience, and about what she's doing in New Zealand to promote the tiny house movement.
She has been canvassing the Western Bay of Plenty District Council and the Tauranga City Council in the hope of creating a tiny house village.
Earlier in the year an event she organised in Mount Manganui drew more than 300 attendees, a clear sign that people in the Bay are looking for alternatives to conventional housing options.
"With soaring house prices and stagnant real wages there has never been a more opportune time to embrace the concept of tiny homes and living more simply. I don't know of anyone who isn't for having less debt and working less," says Melissa.
"Under the current model, most people who buy a standard home have to work anywhere between 20 to 45 years to pay off a mortgage. The benefits of more affordable housing are significant economically, socially and environmentally. They cost way less to build, less to maintain and less to heat and run in general."
Organiser Andrew Martin says following the successful inaugural event at St Paul's Church in Katikati in April, which drew more than 140 locals - the second Be the Change film evening - Tiny Homes, Affordable Housing and Living Simply - along with four inspiring and creative short films is likely to spark even more interest and discussion.
Inside Leo Murray's tiny house build.
A shipping container home conversionist, Tessa Mackenzie, who recently moved to Katikati but is a long-time Bay of Plenty local, has an active interest in social and environmental change.
She will speak about the Tiny House Movement, including multi tiny dwellings on shared land. She has also been working toward a tiny house community and believes the Tiny House movement is shaping a new paradigm of being less debt-poor and more time-rich.
"The spin-offs from this approach have potentially huge benefits economically, socially and environmentally.
"The demand is being largely driven by a generation of 25 to 35-year-old, emotionally intelligent, economically and environmentally savvy individuals who have no other viable alternative. They create more time and money for recreation, relationships and community engagement," Tessa says.
She says efforts are being made to engage with Council - from the mayor, to councillors, to council staff and through the Smartgrowth Housing Affordability Forum.
"Currently the onus is on those wanting to live legally in tiny homes to invest time and money into projects that have uncertain outcomes. Collaboration is needed by the movers and shakers of the tiny house movement with Council, to ensure the Long Term Plan reflects this," she says.
Andrew, who works with councils and other organisations throughout New Zealand and Australia helping build resilience says housing affordability is one of the big issues facing most regions.
"While there is a lot of talk about affordable housing, I haven't seen much concrete action in this space when it comes to councils supporting projects.
"I think it is a function of being a relatively new concept for councils and they just don't know how to deal with it. Primarily it comes down to land zoning and council consents, which fundamentally don't support tiny, affordable and sustainable housing alternatives."
Be the Change Film Night - Tiny Homes, Affordable and Simple Living, June 22, 7pm St Paul's Presbyterian Church, Katikati (Cnr Main Road and Mulgan Street) $5 entry at door.