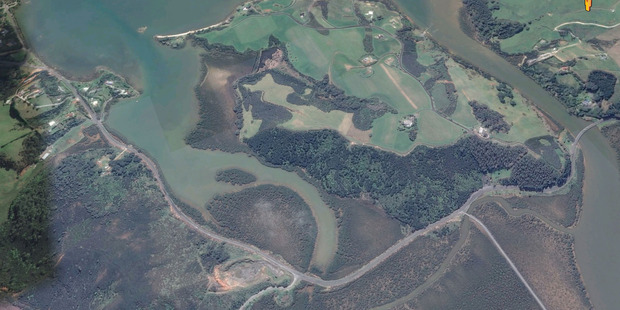 Daniel Thompson knows Mangonui Harbour as well as anyone and better than most. And he fears for its future.
"The current conversation is about Waiora for swimmable, healthy rivers, but if we don't fix this mistake future generations will only be able to walk on most of the upper Mangonui Harbour," he says.
The "mistake" was made about 48 years ago, when the then Ministry of Works created the causeway to Paewhenua Island by bulldozing the river, blocking it at that point, he said.
"In the 32 years I have owned the Mangonui Waterfront Apartments property I have windsurfed, kayaked, fished and stand-up paddle boarded the Mangonui Harbour. I calculate that in that time the upper harbour has silted up by a minimum of 300mm.
Anecdotal advice from others suggests up to a metre.
"Mangrove growth around the whole harbour has significantly increased," he said.
The Far North District Council, Northland Regional Council and New Zealand Transport Agency were all well aware of the issue, but as it is 'hidden' behind the mangroves that obscured the old river, and none of them were willing to own the problem, he said.
In addition to blocking the waterflow, which created the silting, Mr Thompson claimed that the causeway had increased the flow in the stream (at the bottom of the photo) to the extent that it was eroding State Highway 1 immediately south of Kohumaru Road.
That would be more expensive to fix than the 'sensible' option of opening up the river and letting the water flow.
"Anyone wishing to carry out earthworks for projects now has to comply with strict, and sensible, guidelines regarding silting," he said.
"In this case the earthworks were done and the problem gets worse with every tide.
"At the time the original work was done, different environmental attitudes prevailed, so no one is actually to blame, but the bureaucrats who avoid the issue now should be held to account.
"This is a local issue that affects us all. Iwi [Kenana Marae], local residents, particularly in the Back River Road area, the environmental lobby and hopefully the FNDC can get this issue resolved.
"If anyone wants a look from the water, please give me a call (on (09) 406-0347).
"We have a whole lot of kayaks and SUPs, and are happy to host a paddle up to have a look," he added.