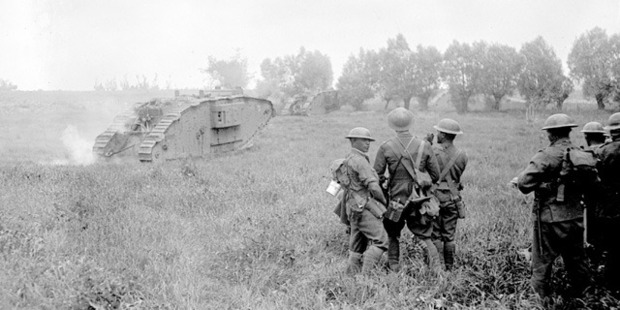 "Gentlemen, I don't know whether we are going to make history tomorrow, but at any rate we shall change geography" and at 3.10am, on 7 June 1917, Major-General Harington's press briefing became devastatingly true.
Underneath Northern Belgium's Messines Ridge, 454,000 kilograms of explosives, placed into 19 huge landmines, created one of the largest non-nuclear explosions in history.
As the soundwaves reached London up to 10,000 German soldiers were dead. The stupefied survivors quickly overrun by 80,000 well-drilled and led British, Australians and New Zealanders - marking the first time since Gallipoli that the NZ Division had fought side-by-side with the Australians.
In arguably the Great War's most brilliantly executed set piece, the prize of Messines was taken by the New Zealand Division before 7am and by the end of the first day, almost all objectives were secured. Yet Messines was a prelude for another battle; historians call it the Third Battle of Ypres though most people know it as Passchendaele.
The architect of Messines was the unlikely looking General Sir Herbert Plumer, who would fuse medieval siege engineering with Second World War Blitzkreig.
A white-haired stout figure, Plumer's outward appearance and big bushy moustache would not have been out of place on Blackadder but he was no donkey. An imaginative tactician and meticulous planner, there was good reason his troops called him 'Daddy Plumer.'
While the First Battle of Ypres had blunted the German juggernaut in 1914 they had secured the high ground. In Flanders high is a relative term given Messines Ridge peaks just 80 metres above sea-level. Yet because of this, the Germans could see everything around them and they had to be removed before Third Ypres could progress.
In January 1916 'earthquaking the ridge' was conceived as an alternative to attacking the Germans head-on. This was to be a 'bite and hold' operation with realistic attainable objectives. It also centred on blowing apart the ridge and its defenders through digging mines, packing them with explosives and thus creating huge landmines.
Brave tunnellers clay-kicking the sodden Flemish ground fought the most ghastly subterranean war. This was medieval siege engineering fought with necessary modern technology like electric pumps. A deadly game of cat and mouse ensued with the Germans countermining.
The Germans dug underneath the British to set medieval-like camouflet but with explosives instead of fire to collapse and kill the tunnellers above. British Army tunnellers responded with directed charges whenever the Germans got close. One landmine was lost and this 22,600 kilogram monster still lies dormant underneath a farm called La Basse Cour.

As these tunnellers engaged in very personal battles that resembled submarine warfare, General Plumer planned his Magnum Opus above.
Plumer trained his troops hard and even had a scale model of Messines Ridge constructed so that they could understand what was to come. Some 31,000 troops built roads and railways to bring supplies up to the front. Plumer even had the latest Mark IV tanks at his disposal and he would use them in concert with the Royal Flying Corps and infantry; anticipating the type of all-arms warfare that would be seen in WW2.
Plumer's artillery planning also showed evolution from the Somme fought just 11-months earlier. Aided by increasingly sophisticated aerial reconnaissance, the directed fire of 2,266 guns would rain over three million shells upon the Germans. Professor Glyn Harper noting that its ferocity reached atomic magnitude.
Then at 2.50am, on 7 June 1917, this barrage stopped. The stunned Germans knew this meant an attack was imminent so rushed into their damaged trenches and brought reinforcements up to meet the inevitable wave of attacking infantry.
Except this was what Plumer wanted. Underneath the Germans, 23 out of 25 landmines were ready but four landmines in the south became redundant when that part of the ridge was taken quickly; one of these unexpectedly exploding in 1955. Then at 3.10am, over 28 stupendous seconds, 19 landmines did explosively "change geography."
The crater left at Hill 60 measuring 80 metres wide and being deep enough to swallow a five storey building. This first day would cost the British 11,000 British casualties with ten percent killed.
By the battle's end, seven days later, British losses would rise to 17,000 casualties mostly from German artillery; the New Zealand Division accounting for just under 22 percent including 700 dead. For the Germans Messines was a disaster. The first day alone saw them incur 20,000 casualties, over 7,000 taken prisoner and their front line literally obliterated.
In April 1918, during the Fourth Battle of Ypres, the Germans would retake Messines but frightful losses from that battle would pave the way for the Fifth Battle of Ypres, which saw Messines recaptured on 29 September 1918; just over six weeks before the Great War would end.
David Broome is a Wellington-based Member of the Western Front Association