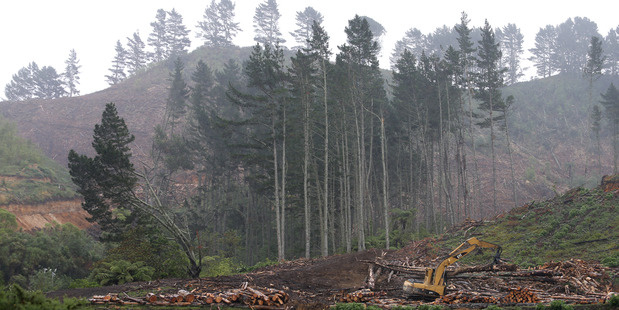 New Zealand's primary sector is enjoying a sweet spot as a broad range of commodities play catch-up with the shift higher in dairy prices.
Economists said data last week, which showed the country's merchandise terms of trade rose by rose 5.1 per cent in the March 2017 quarter to its highest point since 1973, highlighted a significant step up in commodity exports.
The terms of trade - a measure of the purchasing power of New Zealand's exports - have been trending higher since 2000.
"We have seen a structural lift in these [commodity] prices," said ASB rural economist Nathan Penny.
"Dairy prices started moving higher from about 2008 and not many other sectors went with it."
New Zealand had "first mover" advantage when the free trade agreement with China got under way that year, and dairy was the initially the main beneficiary.
Belatedly, other commodities - such as kiwifruit - have followed suit, to the point where China looks likely to overtake Japan this season as fruit marketer Zespri's biggest market.
"Other sectors have cashed in on the food boom story that we have talked about for some time now," Penny said. "That's a big driver of the terms of trade, along with that cyclical upturn in dairy."
In what is a very rare occurrence, NZ beef, lamb and dairy prices all look similarly healthy. "In fact, there is a better than fair chance that all three sectors surpass the $6/kg mark simultaneously at some stage this year," he said.
The first leg of this trifecta is already in place, with Fonterra's farmgate milk price comfortably over $6.00/kg of milksolids, although there was a danger a resurgent NZ dollar could erode gains.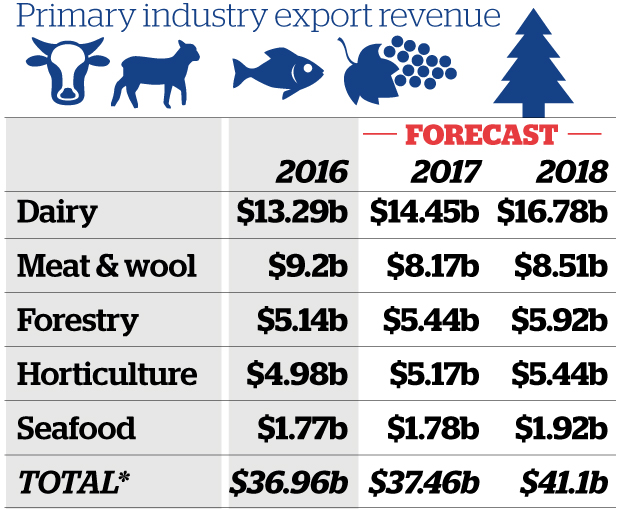 Outside the top three - horticulture, viticulture and forestry have all performed strongly. Still further down the line, the New Zealand avocado industry had its highest value ever with avocados sales reaching $198 million in the 2016/17 season, an increase of $64m on the previous season. Volume too was a record 7.7 million trays in the 2016-17 season - an 84 per cent increase on last season.
In the often overlooked forestry sector, the last year has seen some of the best returns in at least 20 years, with much of that due to demand from China.
Penny said the once lofty predictions of a food boom, driven by emerging economies looking to import more product of higher quality, looked to be playing out.
"We are seeing signs of that now," he said. "Generally, across all these markets, there has been that structural pickup in demand that we have not seen before."
ANZ rural economist Con Williams agreed that the 2008 Free Trade Agreement with China marked a sea change for New Zealand commodity exports, starting first with dairy.
"Definitely, the latest move up [in the terms of trade], now has a broader base, across the meat complex, but even among the likes of aluminium and the other hard commodities," he said.
Williams said New Zealand was also benefiting from one of the biggest trends in the food market -- the shift in focus towards health and wellness.
"New Zealand is altering more of its product and service propositions to fall in line with that, but there are also other growth drivers, such as the online market channels," he said.
Williams said the initial surge in trade that resulted from the Free Trade Agreement with China had spilled over into the broader Asian region.
"You are seeing more formal partnerships and investment in different parts of the supply chain, which to me gives the run up in the terms of trade more durability over a longer time frame," he said.
Williams noted the last spike in the terms of trade was in the 1970s, when Britain was New Zealand's main trading partner.
"The pivot to Asia in the last 20 years has started to pay dividends as those economies have grown strongly over that period."
Williams said Fonterra's announcement last month that consumer and foodservice volumes in Greater China had grown by 40 per cent in the first nine months of its financial year showed how much the commodity trade had changed in recent times.
"To me, that kind of shift is quite significant."