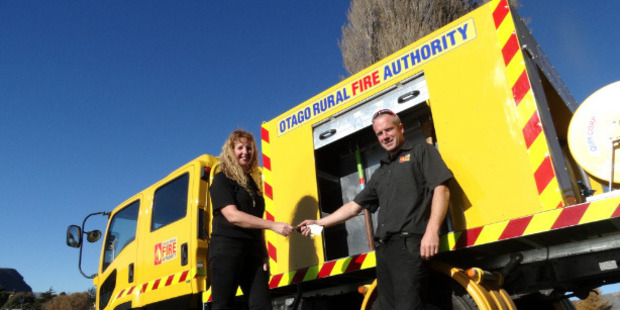 A new custom-designed fire appliance will be a great asset for the Makarora community, the town's fire chief says.
The new Isuzu four-wheel-drive, double-cab vehicle was handed over to the Makarora Volunteer Fire Brigade yesterday .
Designed specifically with the area's terrain and location in mind, the truck was built at the Otago Rural Fire Authority's's fire depot workshop at Clyde.
It will replace an older single cab appliance.
As well as being able to seat six firefighters, the truck carries a 2000-litre water tank and ample storage lockers to carry equipment used for motor vehicle accidents.
Makarora fire chief Heather Pennycook said the new truck was a great asset to the small community.
Being on a busy state highway meant most callouts were for vehicle accidents, she said.
Only a very small number of the callouts the brigade attended were for fires.
Previously, only two firefighters were able to arrive quickly at an event but with the new custom built truck up to six could arrive in the first wave, she said.
"It just means now when we hit the ground we have enough team to control traffic and to have people left over and work on the people who need the help."
The fire brigade had about 15 volunteers, which was impressive as the population of the area was only about 70, she said.
Otago Rural Fire Authority deputy principal fire office Pete Scarlet said the truck's design and build cost about $100,000, which was significantly cheaper than if it had been purchased already fitted out. The truck was the only one of its kind in Otago, he said.
"It's really a unique truck in terms of being able to seat six people, be four-wheeled-drive and just the right size to negotiate those tight places they need to get to up in Makarora."