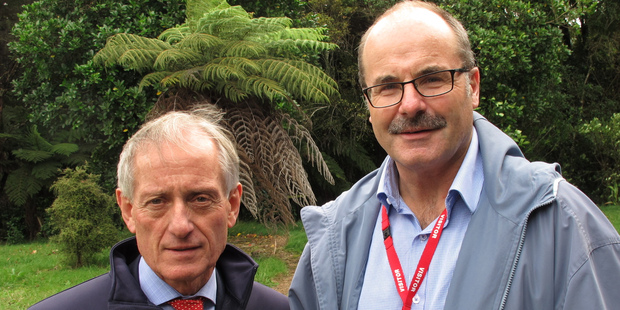 New rules have been imposed on 45 plant nurseries as a major biosecurity operation continues in Kerikeri.
About 100 people are involved in the operation, led by the Ministry for Primary Industries (MPI), which aims to stop the spread of the potentially deadly plant disease myrtle rust.
The fungus was found at a Kerikeri plant nursery on May 2 and, if overseas experience is anything to go by, could be devastating for native species such as pohutukawa, rata and manuka, as well as many garden and commercial plants.
The directors-general of MPI and the Department of Conservation were in Kerikeri yesterday where they visited Kerikeri Plant Production, the epicentre of the outbreak, and announced new biosecurity measures affecting 35 plant nurseries and retailers in the Bay of Islands town.
The rules also apply to another 10 businesses around the country which bought plants from the infected nursery.
The "notice of direction", issued under the Biosecurity Act, requires nurseries to keep myrtle species together and out of the prevailing wind, quarantine incoming stock, inspect plants weekly and spray with fungicide once a fortnight, as well as other measures.
The director-general of primary industries, Martyn Dunne, said New Zealand Plant Producers (NZPPI) was right behind the move and would encourage all its members to follow the 15 protocols laid out in the notice.
Meanwhile the number of sites where the fungi had been confirmed remained at two.
Mr Dunne said he was "delighted" no new sites had been found so far but, given the ease with which the spores were carried by the wind, he would not be surprised if it had spread.
The two sites would be resprayed with fungicide next week and all nurseries would be re-inspected.
MPI staff would again be handing out leaflets at Kerikeri markets this weekend.
If there were no new finds of the disease the operation would be scaled down but not for a few weeks yet, Mr Dunne said.
NZPPI chairman Andrew Harrison said the notice required plant producers and retailers to follow hygiene, containment and management protocols which increased the chances of early detection and lowered the risk of spreading the fungus.
They made sure suspicious symptoms were reported and plants isolated until MPI arrived.
"Myrtle rust has been a call to arms for our industry," he said.
• If you see anything that looks like myrtle rust don't touch it but take a photo and call MPI on 0800 809 966. Go to www.mpi.govt.nz/myrtlerust for more information.