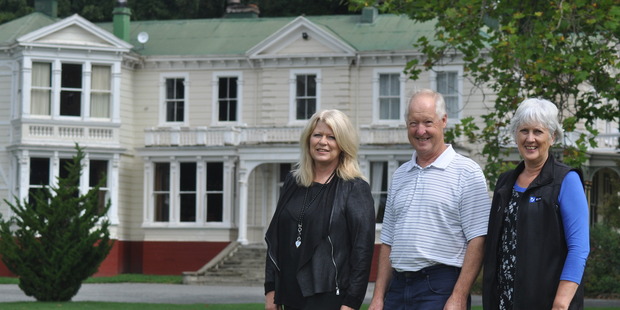 In a coup for the district, more than 80 professional businesswomen from around the country and overseas will converge on CHB next month to be treated to some old-fashioned country hospitality.
The CHB branch of the New Zealand Federation of Business and Professional Women (BPW) is preparing to host the federation's 53rd annual conference at historic Oruawharo Homestead in Takapau in late April.
BPW CHB president Leonie Sherlock said 84 delegates, including one from Australia, had so far registered to attend the national three-day conference, from April 21-23.
"It's exposing a lot of people to CHB that otherwise would never have come here, so we are aiming to make it a celebration of all that is great in CHB," she said.
But she revealed that CHB branch member and conference convenor Sandra Fleming still had some convincing to do for the conference to go ahead in CHB.
"When we put forward for the conference we were told we should do it Napier or Hastings, but Sandra put her foot down and said 'no, we are CHB, we are going to do it here'. So this is going to be different. No-one's been to [a BPW] annual conference at a venue like this before," said Leonie referring to 1879-built Oruawharo Homestead, which has been painstakingly restored by owners Peter and Dianne Harris.
With its ballroom featuring intricate panelling in native timber, drawing room, grand staircase and collection of rare antique furniture, Sandra Fleming said Oruawharo would make a unique venue for the conference, which was normally held in the major cities like Auckland, Wellington and Christchurch.
"The national executive will all be staying here [at Oruawharo]. Normally they are spread out at big, fancy hotels but we think it will be really beneficial for them to be able to stay together and have all their meetings together. We're going to show them some good country hospitality," she said.
With many delegates also bringing their spouses and partners, Sandra said the conference should provide an economic windfall for the district and had already given a boost to local accommodation providers.
"I know the Tuki Tuki Motel's already fully booked out, and so is Ferguson's [Motor Lodge]," said Sandra.
Asked if he would be rolling out the red carpet for the special guests, Oruawharo Homestead owner Peter Harris said: "Of course. But everyone gets that here anyway."
The conference had adopted the region's branding, 'Great Things Grow Here', as its theme.
The Friday night consists of a reception with BPW president, Vicky Mee, followed by the conference awards night where former Art Deco Trust general manager Sally Jackson will be guest speaker.
St Vincent's church, which was relocated to Oruawharo in 2012 and is now known simply as Vincent's, will hold workshops and meetings over the weekend.
Leonie said the public was welcome to attend a panel session at Vincent's on Saturday afternoon, called Entrepreneurial Women Excelling from a Rural Base, which will be chaired by CHB mayor and businesswoman, Alex Walker.
Panellists include Porangahau farmer and AgRecord managing director, Gretchen King, Dannevirke's NZ Business Hall of Fame inductee Mavis Mullins, former 2013 Dairy Woman of the Year and CHB businesswoman Justine Kidd, recently named an Officer in the NZ Order of Merit (ONZM) and Sally Maguire from Artmosphere Gallery in Waipawa.
"We wanted to keep our speaker's panel local, because locally, I think we have a lot to celebrate," Leonie said.
Tickets to the Saturday panel, from 1.30-3pm on April 22 are available from EIT's CHB campus on Russell St, Waipukurau for $20.
- CHB Mail