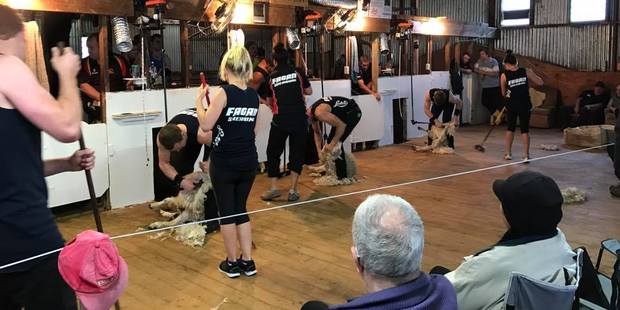 Two Welsh shearers and a Kiwi have this morning in a New Zealand woolshed begun a bid to break a World record that has stood for more than 18 years (photo from Fagan Shearing).
Delwyn Jones, who lives in Te Kuiti and works for Fagan Shearing, is joined by compatriot Matthew Evans, who arrived in New Zealand last month, and Ryan Miller, from the South Island and who has returned from Australia to make his bid for a place in the record books.
Shearing at Moketenui, a station at Mangapehi off State Highway 30 between Te Kuiti and Benneydale, they are attempting to break the World three-stand eight hours strongwool lamb-shearing record of 1784 held by King Country shears Richard "Digger" Balme, Roger Neil and Dean Ball.
It was set on January 8, 1999, at Te Hape, east of Benneydale and where shearers Coel L'Huillier and Kevin Walker yesterday set a two-stand eight hours ewe-shearing record.
In the record 18 years ago, Balme shore 621 for what was then a new solo eight-hours lambs record, a record which now stands at 744 and which is held by Irish shearer and new nine-hour record holder Ivan Scott.
Neil shore and Ball 563.
Shearing four-two hour runs, separated by half-hour breaks for morning and afternoon smoko and one hour for lunch, today's challengers will be looking for a combined tally of at least 446 by the morning smoke break at 9am to set the scene for a new record by the time a team of judges World Sheep Shearing Records Society judges signal the end at 5pm.
Two of the judges gave the all-clear for the record to go ahead late yesterday when a sample shear of 20 lambs realised 24.9kg of wool, the 1.245kg a lamb average comfortably meeting the minimum requirement of 0.9kg a lamb. Outside temperatures at Mangapehi are forecast to reach the high 20s.
The records have been attracting worldwide interest with about 5000 following yesterday's record on the Shearing Sports New Zealand facebook page, and almost 24,000 having been reached by the sign-off post confirming L'Huillier and Walker had set a new ewes record of 1068, beating the record by just two sheep.
Shearing records are overseen by the World Sheep Shearing Records Society and are based on either eight or nine-hour days, standard says worked in New Zealand woolsheds.