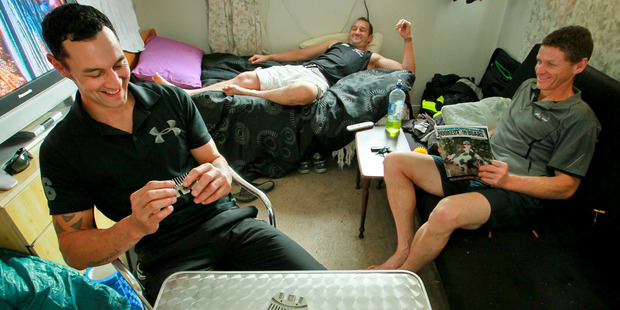 Three shearers inspired by shearing's Big Day Out fundraiser last January are back in Hawke's Bay, preparing for an attack on a world record in the same woolshed next month.
The bid will take place at Big Day Out venue Waitara Station north of Te Pohue on January 17 when Luke Mullins, from Taihape, Southland father-of-four Eru "The Machine" Weeds, and James Mack, originally from Mangakino, chase the three-stand eight-hours ewes record of 1347 set last December at Big Hill Station, west of Hastings, by Hawke's Bay shearers Shelford Wilcox (488), Kalin Chrystal (486) and Errol Chrystal (373).
Each will be targeting 500 sheep for the day, the trio hoping to set a new mark of well over 1500.
All going well, they hope at least one will threaten the solo record of 603 held by Australia-based King Country shearer Stacey Te Huia.
Working for Flaxmere contractor Colin Watson Paul's Shearing NZ and relaxing this week boarding in Havelock North, after a day's work in Central Hawke's Bay and a visit to the gym, the three said it was Mullins who started the idea during the BDO cancer fundraiser.
At 35 and with a wife and three children at home in Te Awamutu, it will be his first attempt on a record, inspired when he was about 15 watching Rod Sutton, Bart Hadfield and Steve Stoney in a three-stand record in 1997.
It was Hadfield, then based near Taihape but now farming north of Wairoa, who taught hm to shear.
But for Weeds, 38, and Mack, 43, it is probably one last crack, their names already in the World Sheep Shearing Records Society's with those of Hawke's Bay gun John Kirkpatrick and Southlander Leon Samuels as holders of a four-stand lambs record.
Originally, it was to have been Mullins and Taumarunui shearer Daniel Hodgeson tackling the two-stand record of 1066 in 2011 at Waitara Station by Hawke's Bay shearers Rowland and Doug Smith.
As the idea grew, and Hodgeson withdrew, because of injury, the team was put together using some of the best advice, from Heiniger shearing machinery representative Tony Hoggard and Waitara Station owner Lloyd Holloway, whose shearing records history started with a solo record of 578 in 2010 by third Smith brother Matthew, who in July this year claimed the ultimate goal, with 731 ewes in a nine-hour day in England.
It's a big team effort, with advice from such people as other record breakers, and their contractors, who've helped raise the $4500-plus needed to register the record attempt.
"You've got to have the farmer on your side," said Mullins.
"It's him that has to change his farm around for us," said Mack.
"If anything goes wrong, blame me," says Mullins, checking over a few combs and cutters at the table.
"I'm too old for this business," says Mack, on the couch flicking through a magazine.
"This will be me done," says Weeds, who first started shearing in Southern Hawke's Bay as a young teenager, leaving Dannevirke High School after just four months so he could get into the woolsheds.
The bid will be the third of three in the Central North Island within eight days.
The others will be on January 10 and 11 at separate woolsheds in the King Country.