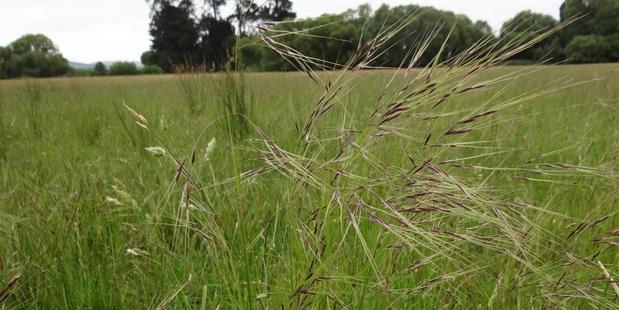 Farmers in the Horizons region are being asked to keep a close eye out for Chilean needle grass this summer.
The invasive pest plant is most easily identifiable in spring and early summer, when its reddish purple seed heads emerge.
Chilean needle grass infests 3700 hectares of land across Marlborough, Canterbury and Hawkes Bay. Nationally up to 15 million hectares are climatically suitable for its growth.
Horizons Regional Council Biosecurity Officer Jack Keast said the economic impacts could be devastating if Chilean needle grass were allowed to spread into the Horizons region.
The seed's sharp tip and twisting awn (bristle) can drill through animals' pelts and lambs' eyes, causing suffering and potential downgrading of carcases.
An infestation can reduce stock carrying capacity, income and potentially, property values.
Chilean needle grass is spread by seeds attaching to people, vehicles and animals or being moved in contaminated feed and soil.
To stop Chilean needle grass establishing in the region farmers should practice good on-farm biosecurity and remain vigilant for any signs of the plant or its seeds on the farm.
The plant is typically found in dry hill country, light soils, heavily grazed pasture or bare ground.
"We need to stop the spread of Chilean needle grass to protect our agricultural industry and our environment," Jack said.
"You can help by checking for Chilean needle grass this summer. Identifying an infestation early will make containing and controlling the pest less expensive and more manageable. Don't delay - check your farm today."
- If you suspect you have found Chilean needle grass, contact Horizons Regional Council immediately on 0508 800 800. Find out more at www.facebook.com/chileanneedlegrass