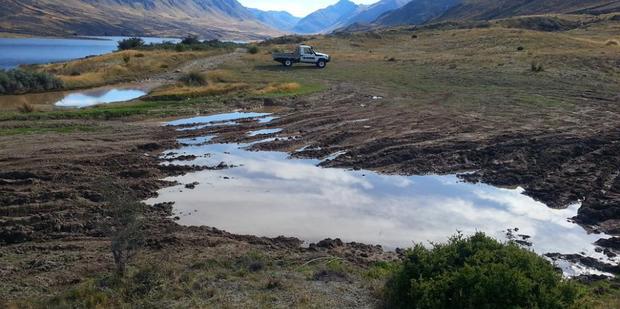 The Department of Conservation (Doc) has been forced to rethink access rights to some areas in Southland due to "inconsiderate four-wheel-drive users" destroying popular visitor sites.
Doc Fiordland district recreation/historic principal ranger Grant Tremaine said over the last 12 months significant parts of the Mavora Lakes and Borland areas had been damaged by vehicles.
He added instances of "rubbish tipping" were also on the rise.
While 4WD activity was allowed on certain areas of conservation land, that was restricted to tracks built and maintained for that purpose.
"Reckless and thoughtless four-wheel driving is causing significant damage to the landscape.
"There is a code of conduct for four-wheel driving, designed for the long-term sustainability of the activity and the environment.
"If this wilful destruction of the environment persists, we may have to review vehicle access to certain areas of conservation land."
Mr Tremaine said that would be a shame given there were many responsible 4WD drivers who would "never consider causing this kind of damage."
Drivers of 4WDs were required to avoid sensitive areas, including alpine landscapes, swamps, waterways, sand dunes and river beds easily damaged by vehicles.
They were also required to stay on tracks and avoid widening them.
Tracks which had once been about 4m wide were now 100m wide in places and several "muddy areas" had emerged up the valley and around the Mavora campsite.
Mr Tremaine said if those responsible were caught, Doc could prosecute them.
"A couple of years ago at Boundary Hut we ended up with two guys facing charges over damage out there ... they were convicted of that.
"That's the worst-case scenario."
Access for 4WD drivers had been in place since the 1950s or 1960s and while over the years there had been some damage, it was getting "worse and worse", with complaints to Doc every fortnight.
"It's really disappointing for me, actually.
"There are just more and more 4WD drivers now and it just seems to be getting worse."
Te Anau Fish and Game officer Bill Jarvie shared Mr Tremaine's concerns, saying the Mavora Lakes Conservation Park was popular with families, residents and visitors for camping, tramping, fishing and horse riding.
"Vehicles have been seen racing each other along the lakeside road and there is clear evidence of destructive off-roading and associated littering with bottles.
"Apart from the environmental impact this causes, this kind of activity puts the safety of legitimate park users at risk," Mr Jarvie said.
Mr Tremaine said he would reassess the tracks and damage after summer before making a decision about restricting 4WD access.
Those embarking on 4WD trips were required to read and abide by the activity's Care Code, available at doc.govt.nz.
Anyone with information relating to prohibited 4WD activity should contact Mr Tremain by emailing him at grtremain@doc.govt.nz or phoning (03) 249-0200.