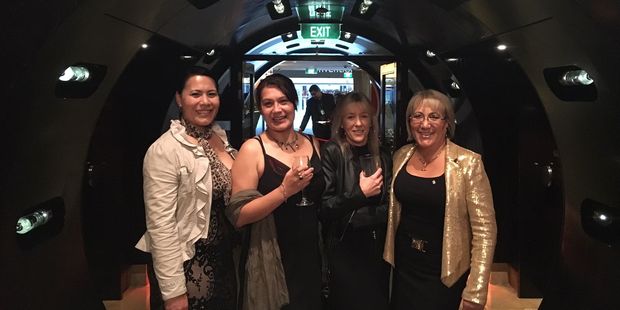 What's in the DNA of Dannevirke, Mavis Mullins was asked by a prominent businessman in the 1000-strong audience at Wednesday night's Westpac Women of Influence awards in Auckland.
"There in a crowd of 1000 people all nodding their heads, I thought, we are in a great place and it sets us up for the future," she said.
In its fourth year, the Women of Influence Programme is designed to identify, recognise and celebrate the 100 most influential women shaping New Zealand across 10 categories: Arts and Culture, Board and Management, Business Enterprise, Community and Not for Profit, Diversity, Global, Innovation, Public Policy and Rural.
With a record number of nominees this year, Mrs Mullins said she was delighted to have been selected as the winner in the rural category.
"I knew I had been nominated but to win a category - crazy," she said.
"But what an honour and privilege to be amongst so many inspiring women doing amazing things. I'm feeling humbled but elated.
"I think the biggest gift is if people look up to you, is to be able to turn the mirror back on them.
"I tell people I'm from Dannevirke and I'm a woolclasser, so you can do it too. Dannevirke is a special place and I took my two daughters, Aria and Korina, and our Paewai/Mullins Shearing administration manager of 20 years, Karen Barrow, with me to Auckland."
Mrs Mullins said although she couldn't point to one thing which resulted in her win, her connections within the rural-agri sector helped.
"I see the win as a nod to the resilience of rural communities and the commitment of those who work the land and an increasing understanding of the value of the contribution of the primary sector to New Zealand Inc, bridging the urban/rural divide.
"This is also likely to be a nod to the fact I have been part of Rangitane's Treaty of Waitangi settlement too."
Mrs Mullins was a member of the Rangitane o Wairarapa and Rangitane o Tamaki nui-a-Rua negotiation team which signed their Treaty of Waitangi Deed of Settlement recently. She also heads Tu Mai Ra, the post-settlement governance entity.
To be at the awards evening was a wonderful experience.
"To be there and to meet and be inspired was wonderful," she said. "It was like having a grease and oil change for myself."
Accepting she is a role model, Mrs Mullins believes "women just do stuff".
"On the whole we are a lot more sharing than men and are inclined to take others along," she said. "But it all starts from the little things, kindness and respect. That's what brings you mana."
This has been a big year for Mrs Mullins who was named the University of Auckland Business School Aotearoa Maori Business Leaders Awards' inaugural Business Woman of the Year.
"That was amazingly special," she said. "And the regional strategy which was launched recently is a key to making so much happen. All this has a ripple effect, down to family, community and business.
"Tararua and Wairarapa did very well at the Women of Influence awards, with myself and Catriona Williams in the final line-up and Massey alumni and staff providing 20 per cent of the finalists."
Presented by Fairfax Media and Westpac, the New Zealand Women of Influence programme recognises and celebrates women from all walks of life who make a difference to everyday Kiwis.
The programme is committed to increasing the visibility of women's leadership in New Zealand, highlighting the important contribution women make in creating a bold and diverse future for New Zealand.
The night's supreme winner was Helen Robinson.
Robinson co-founded Organic Initiative, a company which sells organic and biodegradable cotton hygiene products, with the aim to help get rid of plastic from society. The company launched last year and is now in almost every Pak 'n Save and New World supermarket in the country.
As well as leading a growing social enterprise, Robinson is an experienced executive and director, sitting on a number of boards including Auckland Tourism, Events and Economic Development.
The former chief executive of Microsoft New Zealand, Robinson also won the Board and Management category.