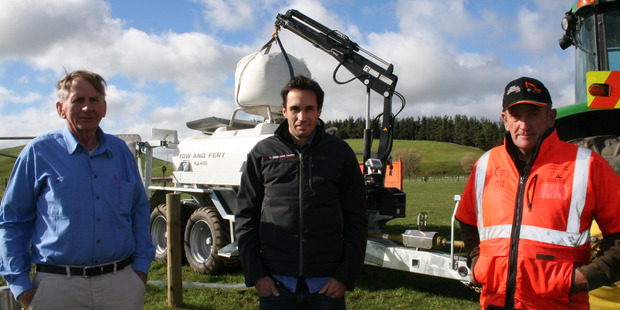 Local Dannevirke contractor, Ernie Christison, recently went to Mystery Creek Fieldays looking to buy an effluent sprayer as he wanted to offer additional services to his farming customer base.
After an hour and a half spent in discussion with a salesman from Metalform, about their Tow and Fert machine, he then spent another day walking around sites before finally deciding that the salesman was right.
Ernie realised that the Tow and Fert is not just another sprayer or spreader as it has some unique features that can offer huge agronomical and financial benefits to farmers.
For his requirements, they offered the best technology available and had the added bonus of not only being Kiwi made, but also being LOCALLY Kiwi made, as the units are designed and manufactured in Dannevirke.
Metalform started out in Dannevirke in 1961 with two staff members manufacturing rotating display stands for retail stores and while head office is still in Dannevirke, they now employ a total of 60 staff and have offices worldwide.
The Tow and Fert range is only one branch of their manufacturing spectrum. Ernie came home from Fieldays with Metalform's top of the range, fully spec'd Tow and Fert machine and after talking to Andrew de Lautour, Managing Director of PFP Fertilisers in Waipukurau, he thought they could become a winning combination.
Andrew de Lautour has been involved with Ultra-fine particle fertiliser for around 30 years. Eight years ago he moved to the Dannevirke area and eventually set up PFP Fertiliser's manufacturing facility in Waipukurau with his business partner.
PFP manufacture ultra-fine particle, high quality, lime, minerals, and trace element powders.
Andrew says "When it comes to lime, it's not the tons per hectare that raise pH, it's the available surface area of the Calcium carbonate that counts."
As particle sizes are reduced, the available surface area of its Calcium carbonate content increases exponentially.
PFP grind lime, RPR, guano and magnesium along with other minerals and trace elements as required, creating ultra-fine powders with a median particle size of typically less than 2 micron.
For example, in this process the exposed surface area of a coarse 2mm chip increases exponentially from 24 square mm to almost 10,000 square mm and this increases the availability of nutrients to feed plants and improve soil quality.
Because of this dramatic increase in availability, the quantity required becomes subsequently less, leading to a better value-for-dollar ratio, especially when combined with lower transport and application costs. Ultra-fine particle lime and fertiliser powders can be slurry spread and are ideal to add to effluent for a total one-stop application.
Considering price and versatility, the combination of Ernie's foresight, Metalforms Tow and Fert and PFP's ultra-fine particle technology, the whole package offers substantial savings for farmers without tying up valuable capital.
Compared to conventional solid applications, there are significant benefits to applying nitrogen and trace elements as a foliar spray, while at the same time applying non-soluble materials, such as lime and RPR etc as an ultra-fine particle slurry blend.
Tim Henman, Marketing Manager at Metalform says "that fine-particle fertiliser has historically been notoriously difficult to apply".
This has led a lot of people to custom build machines which often cost a lot to get right and are often plagued with issues for the life of the machine.
The practicality of mixing and applying these fertilisers with traditional boom sprayers and solid fertiliser spreaders has put the job in the 'too hard' category for many farmers.
Metalform have addressed all of these challenges over the ten years spent perfecting the Tow and Fert design.
Ernie can now offer an easy, economical and convenient way to apply these previously 'hard to deal with' fertilisers.
This means that the financial and animal health benefits of ultra-fine particle and foliar fertilisers can be gained without complicating your farming practices.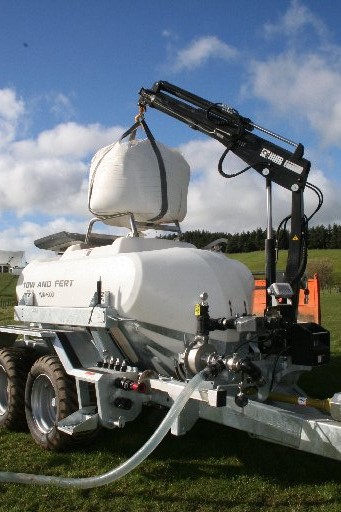 Tim Henman from Metalform says "It is an education process to understand how savings can be made. Farmers are required to cut down input costs and machine can do that through reducing the quantities of nitrogen, minerals and other elements.
Multiple research trials prove a key value proposition that "by applying nitrogen in a foliar form you can reduce the amount of N input by up to half and still grow the same amount of grass". For example, where a nitrogen bill is currently $60,000 per annum, Ernie and the Tow and Fert can allow you to nearly halve that, without reducing your grass response.
The Tow and Fert range has many patented features which set it apart from a traditional boom sprayer. The mixing tank features a powerful agitation structure, with mix ratios of up to 1 part water to 3 parts fine-particle fertiliser possible.
The booms also feature a patented recirculation system, meaning the booms continuously recirculate, regardless of whether or not the nozzles are spraying. With these combined technologies, the Tow and Fert can quickly dissolve urea in cold water to create a foliar application. These, as well as other superior design features of the Tow and Fert range, make mixing and applying ultra-fine particle fertiliser, fast and convenient.
Another service Ernie offers is to take your soil, herbage and effluent samples for testing.
As he says, "It makes sense to know exactly what you already have, before you go shopping for your fertiliser requirements.
Why buy it, if it is already there waiting to be spread". From the results of these tests, PFP will produce a custom-blended ultra-fine particle product containing lime and as many other elements as your farm requires.
PFP load your custom manufactured product into bags which are then mixed with effluent and/or water in Ernie's Tow and Fert. Herbicides can be included to truly make it a once-only application thus making huge savings with only one vehicle passing over your paddock instead of up to four.
The coverage of the spreader at 10kph is one hectare in three minutes. Thanks to Metalform's superior quality engineering, in Ernie's capable hands the Tow and Fert can handle rolling to medium hill country so just think what you could save. No more restrictions with effluent only going to paddocks close to your holding area. More fertiliser dollars left in YOUR pocket.
After 34 years with diggers, Ernie has been to One Plan presentations by Horizons and New Zealand Dairy.
He says "it is becoming more and more a priority that farmers need to be seen to be complying with the regulations.
Effluent is one of the dairy farmers biggest problems, even the sale-yards can't find anywhere to dispose of their stock effluent.
The Collis family, farmers in Eketahuna, told me that they use the Tow and Fert purely for reducing nitrogen to help comply with the One Plan - it is one of their must-have things on the farm. Ernie says "with this type of technology we can resolve the problem, but more importantly we can add value to it, use it as a means to take care of weeds and also take a big cut off of the fertiliser bill."
Campbell Easton, Director and Manufacturing Manager at Metalform, says "The ability to save on both input and spreading costs is a real benefit. You get an experienced operator who knows exactly what he is doing. It's quite a compelling story for the local farmer because they get all the benefits of the technology without the capital outlay.
"Already over 250 machines are out on farms in New Zealand and Australia with a few machines making their way to England and a distributor/dealership in Ireland.
"The shock of what's happened to dairy farmers in the last 18 months has caused farmers to look at their business model in terms of imported feed versus growing more of your own high quality grass.
"I think the three companies involved are well placed to get New Zealand back to what we have always been good at - being recognised for growing high quality grass - and to do it cost effectively, well, that has to be in our farmers favour."