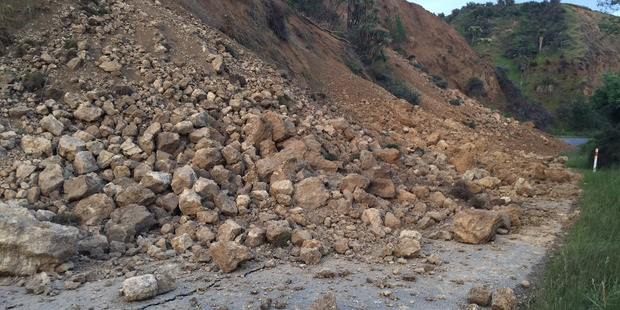 North Canterbury farmers are looking to the future, after the 2016 Waiau earthquake.
About 20 farmers attended a meeting in the Waiau Hall on February 27, to discuss options for future-proofing farms severely damaged in the 2016 North Canterbury earthquake.
The meeting was the second in a series of four meetings being held around the worst affected earthquake areas.
Meeting organiser Rebekah Kelly said she was pleased with the turnout.
''There's lots of guys whose farms have really been broken and they've been working really hard to get them up and running again. There's been some really positive ideas today,'' she said.
''For some of those ideas, which might feel a bit pie in the sky, we're looking to see if we can make these work and to get some science behind the next right decision we have to make.''
Hurunui Mayor Winton Dalley said up to a quarter of the land on the worst affected farms could be unfarmable in the future, meaning alternative income sources needed to found so the farms remained viable.
The farmer-led initiative had received funding from the Ministry of Primary Industries' sustainable farming fund, Beef and Lamb New Zealand and Environment Canterbury.
A governance group of seven farmers had been formed with industry and local government representatives to oversee a programme to help farmers get back on their feet.
The North Canterbury and Marlborough farmers had been divided into three areas, with the Leeders Rd-Conway-Cheviot farmers meeting held at Mendip Hills, near Parnassus (north of Cheviot) earlier last month.
Last week's meeting was first of two for the Inland Rd group. Farmers at the Kaikoura end of Inland Rd are due to meet this week.
The Clarence Valley-South Marlborough group is also due to meet this week.
The meetings are a chance for farmers to discuss ongoing issues, as well as explore ideas for farming in the future.
Ideas discussed included research into carbon sequestration in the soil and plant varieties which could get better environmental outcomes, planting trees or manuka for bees in damaged areas and possible tourism ventures.
The farmers were also keen to see investment in the town of Waiau to create employment opportunities and attract families to the area.
Mr Dalley said he had invited Agriculture Minister Damien O'Connor and Forestry and Regional Economic Development Minister Shane Jones to visit quake-affected farms and to discuss solutions.
Central Rural Life